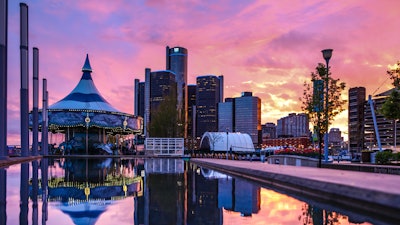 Stephen McGee via GM
DETROIT – In 1996, General Motors acquired the Renaissance Center to house its world headquarters on Detroit's riverfront, a milestone that helped spark a downtown renaissance and enhance public spaces along the Detroit River.
Twenty-five years later, GM enters the next chapter of its story in the city it has called home for more than a century.
GM's impact is seen clearly at the top of Detroit's skyline – the GM RenCen. Following 25 years of near-constant improvements, Detroit's signature riverside complex is a much different and more vibrant place than it was in the 1990s.
GM's initial $500 million renovation reshaped downtown Detroit, most notably taking down the fortress-like concrete berms and opening the doors to continued enhancements.
GM helped city residents and visitors rediscover the riverfront by developing the first phase of the Detroit International RiverWalk, which – thanks to the private-public Detroit Riverfront Conservancy – offers 3.5 miles of outdoor public space, nearing the eventual goal of 5.5 miles.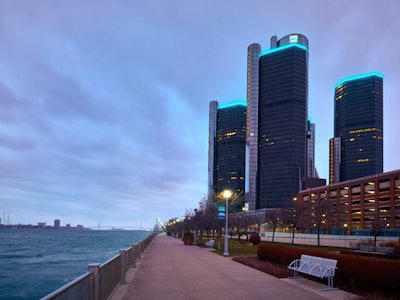 The progress has been so dramatic that the Detroit riverfront was recently named by USA Today as the country's best river walk in 2021.
Factory ZERO, just four miles from the GM RenCen, opens this year as the flagship plant in GM's all-electric future. GM's $2.2 billion investment in Factory ZERO (formerly the Detroit-Hamtramck Assembly Center) for retooling and upgrades will position the facility to build EVs at scale. It represents the single largest investment in a plant in GM history. Once fully operational, the plant will create more than 2,200 manufacturing jobs in Detroit.
In just the past five years, GM has invested more than $50 million with local non-profits delivering lasting change in education, workforce development, neighborhood revitalization and placemaking efforts across the city.