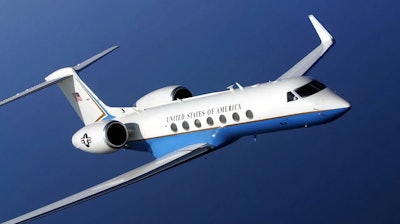 Gener
SAVANNAH, Georgia — Gulfstream Aerospace, a subsidiary of General Dynamics, has been awarded $696 million in contracts from the U.S. Air Force Life Cycle Management Center for engineering services support and contractor logistics for C-20 and C-37 aircraft.
The Engineering Service Contract (ESC) represents a $612 million, 10-year renewal of a prior ESC. The contractor logistics support (CLS) award for $84 million exercises Option Year Four of an existing CLS contract, bringing its cumulative face value to $594 million.
With the ESC contract, Gulfstream provides dedicated resources supporting C-20G, C-37A and C-37B aircraft for the U.S. Air Force, Army and Navy.
Gulfstream's government program and special missions office provides engineering services, aircraft modifications, configuration management, data delivery and publication management. Gulfstream Customer Support provides field services and technical operations support.
Gulfstream will perform the work in Savannah, Georgia; Joint Base Andrews, Maryland; Ronald Reagan Washington National Airport, Washington, D.C.; Hickam Air Force Base and Marine Corps Base, Hawaii; and Ramstein Air Base, Germany.