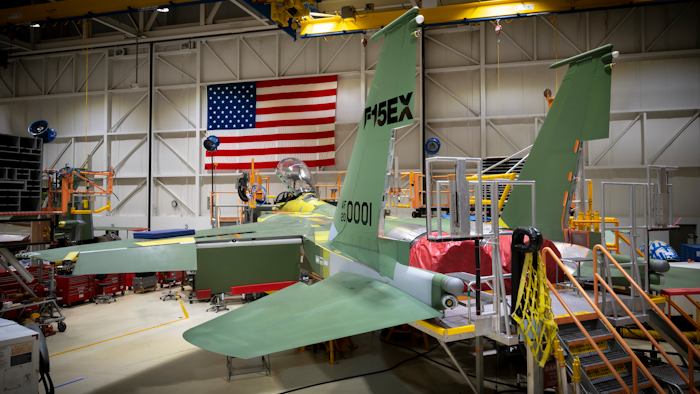 U.S. Air Force, Eric Shindelbower
The U.S. Air Force has awarded Boeing a nearly $1.2 billion contract to build the first lot of eight F-15EX advanced fighter jets to help the service meet its capacity requirements and add capability to its fighter fleet. The award also covers support and one-time, upfront engineering costs.
Already under construction at the Boeing F-15 production facility in St. Louis, the first two jets will be delivered next year.
The U.S. Air Force is also announcing the overall Indefinite Delivery Indefinite Quantity contract with a ceiling value of nearly $23 billion for F-15EX.
The F-15EX carries more weapons than any other fighter in its class, and can launch hypersonic weapons up to 22 feet long and weighing up to 7,000 pounds.
To further support the digital airframe and advance rapid technology insertion, the F-15 program serves as a pathfinder for the Department of Defense's DevSecOps initiative, aimed at developing secure, flexible and agile software. Additionally, open mission systems architecture ensures its viability for decades.
Pilots and mechanics currently operating the F-15 anticipate transitioning to the F-15EX in a matter of days as opposed to years. Future plans call for as many as 144 aircraft.