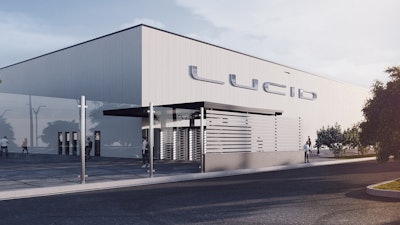 Lucid Motors
The company expects to begin production of its debut electric sedan in 2020.
More than four years after selecting a site outside Phoenix for its first electric vehicle factory, Silicon Valley EV startup Lucid Motors officially broke ground on the project Monday.
The company, founded by former Tesla engineers as battery technology company Atieva in 2007, officially shifted to a new name and introduced its debut electric sedan in 2016. That same year, Lucid announced plans for the Casa Grande, Ariz., factory and its intentions to begin producing the Lucid Air by 2018.
The company was reportedly plagued by fundraising issues before securing a $1 billion investment from Saudi Arabia's sovereign wealth fund to help complete construction. Lucid now plans to begin production at the factory next year.
"We are proud to be moving forward on our commitment to manufacturing the Lucid Air in Casa Grande," Peter Rawlinson, the company's CEO and CTO, said in the announcement.
The first phase of the Casa Grande project will pour $300 million into the site and create some 400 new jobs. The company plans to dramatically expand production to 130,000 cars per year by 2022 and increase its workforce to about 2,000.
Lucid plans to invest about $700 million in Casa Grande by the mid-2020s; the factory will support 4,800 direct and indirect jobs by the end of the decade.
Lucid is eligible for nearly $44 million in state tax credits and nearly $8 million in grants, the Arizona Commerce Authority told the Arizona Republic.
The company said the Lucid Air will be able to accelerate from zero to 60 mph in less than 2.5 seconds and travel more than 400 miles per charge. Its price tag, however — reportedly more than 100,000 — comes in well ahead of the starting prices for Tesla's luxury EVs.