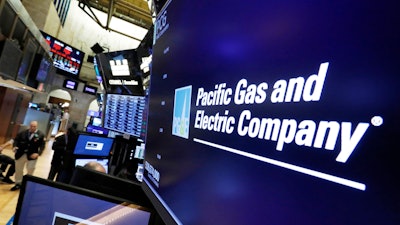 AP Photo/Richard Drew, File
SACRAMENTO, Calif. (AP) — All three of California's investor-owned utilities have agreed to pay into a new fund to cover costs from catastrophic wildfires caused by power company equipment. Pacific Gas & Electric said Thursday that it will pay about $4.8 billion into the fund when it emerges from bankruptcy as well as $193 million a year.
That's on top of Southern California Edison's announcement earlier in the day that it would participate. San Diego Gas & Electric said last week that it would join the fund, committing $450 million over multiple years. Together the companies will contribute a total of $10.5 billion from shareholders and debt financing. Electric customers, meanwhile, will kick in an additional $10.5 billion through an existing charge on their bills.