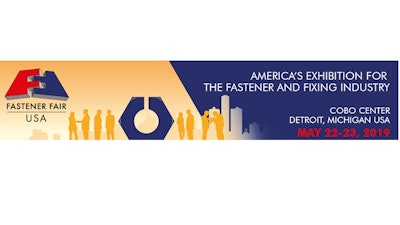 Fastener Fair USA, the exhibition for fastener and fixing industry, will take place May 22-23 at the Cobo Center in Detroit, MI. The event has announced its most in-depth conference program to date, with more than 15+ training, technical and process sessions taking place during the two-day event. 
The eventful program features educational sessions conducted by experts from an assortment of backgrounds and will cover topics on maintenance and repair, fastener basics for beginners to the industry, risk management, the fundamentals to help your company succeed, and much more.
New this year, Fastener Fair USA will feature two stages to help better serve the industries and positions in the industry. The Distributors Conference helps fastener distributors gain competitive advantage, learn new technology and study best practices through presentation from industry experts. The Tech Talks Theater will be more technical in nature, giving attendees insight into what pushes the industry forward, the latest products and technology, all the way down to what kind of material will work best for their application. Fastener Training Institute will be hosting, for a second time, "Fastening 101 – Understanding Threaded Fasteners with Emphasis on Automotive Fasteners." Held the day before the show and sponsored by the Fastener Education Foundation, this course will delve into fastener engineering, automotive fastener basics and trends in the industry. 
The full line-up of sessions and speakers for both stages is available at https://www.fastenerfair.com/usa/conference. To register for Fastener Fair USA, or for hotel accommodations, visit www.fastenerfair.com/usa. Exhibit hall pass prices will go up on April 26.