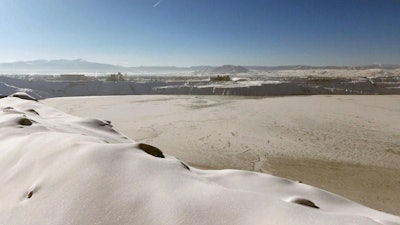 Montana Standard, @MontanaStandard
BUTTE, MONT. (AP) — Last month's harsh winter weather has delayed a pilot project that aims to stop the rise of toxic water in Butte's Berkeley Pit.
Montana Resources' Mark Thompson tells The Montanan Standard the mining pit is still frozen over, construction has slowed and the project to treat and discharge the water isn't expected to begin until June.
The Environmental Protection Agency originally set 2023 as the target date to begin pumping and treating before the water in the pit reaches a critical level.
Montana Resources wants to start early with a pilot project that was originally slated for the end of last year, but has now been delayed twice.
Atlantic Richfield Co. has said a polishing plant that will be part of the water treatment process won't be complete until mid-2019.