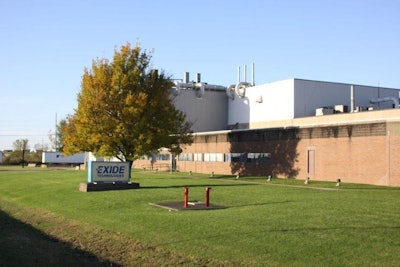 MANCHESTER, Iowa (AP) — Growing up in Puerto Rico, Christian Arroyo dreamed of one day living in Alaska.
Living in the more tropical environment of his hometown, Ponce, one of the larger cities on the island, Arroyo envisioned basking in more frigid weather coupled with vast countryside.
Then, in September 2017, Hurricane Maria struck the island, devastating Ponce and leaving Arroyo and his family without electricity for months.
"It turned us upside down," he said. "Everything was different."
With the island devastated, Arroyo started looking for job opportunities on the mainland. His brother informed him of an opportunity with Exide Technologies.
On a recent Sunday, Arroyo left the humid heat of Puerto Rico for the frigid cold of Iowa — and he couldn't have been happier.
"I'm really excited to start a life here," Arroyo said. "It's not Alaska, but it's still cold and open."
Arroyo is one of eight new employees that Exide officials recently hired from Puerto Rico to work at their plant in Manchester, which employs more than 330 people.
Plant Manager Bill Delaney said the initiative was started when the company struggled to fill openings.
"We wanted to hire locally, but unemployment is so low here," Delaney said. "These new employees from Puerto Rico are going to be a great benefit to the company and the local economy."
The unemployment rate in Puerto Rico was 8.3 percent in December, according to federal data. That compares to a rate of 1.4 percent for Delaware County — home of Manchester — in November, the most recent month for which state data is available.
The eight new employees will work in the Manchester Exide plant's assembly line, helping construct the batteries that the company manufactures, the Telegraph Herald reported.
Along with their work ethic, the new employees also bring their experiences of Hurricane Maria and the devastation it caused to Puerto Rico. The Category 4 storm killed about 3,000 people and caused more than $100 billion in damage.
"It was hectic," said Hakim James, 22. "Our home got flooded, and there was no electricity for a long time."
James grew up in the U.S. Virgin Islands and moved to Puerto Rico to study business. The hurricane left him with limited opportunities to find work to help pay for school, so he started looking for a job off of the island.
"I saw the job with Exide, and it seemed like a good opportunity," James said. "I knew it would be a change."
Arroyo originally worked in a distillery in Puerto Rico. Hurricane Maria ripped off its roof, leaving him out of work for two months.
Although he eventually started working again, he felt the future outlook of Puerto Rico wasn't what he wanted for his 6-year-old daughter and newborn son.
"If you read the news, you know that it's not getting better soon," Arroyo said. "I knew that we needed to move forward."
While Arroyo establishes himself in Manchester, his family is remaining in Puerto Rico, a decision that most of his fellow new employees also chose.
Delaney said the eight new employees are residing in temporary housing in Cedar Rapids. Company officials are assisting them in finding more permanent housing, so they eventually can fly their families in.
The new employees also will have "'sponsor families' to welcome them and help orient them into the community," an effort being coordinated by the Manchester Area Chamber of Commerce, according to the company.
Delaney added that Exide is planning a second trip to Puerto Rico to see if it can attract more new employees. The Manchester plant has more than 30 open positions.
"When you can get a win-win situation, that's always a good thing," Delaney said. "We are filling positions that needed to be filled, and we are able to help people who were devastated by the hurricane."