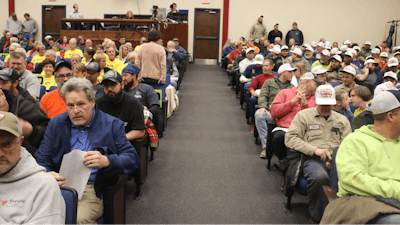 WNINnews, @WNINnews
LINCOLN CITY, IND. (AP) — Hundreds of people filled a southern Indiana high school auditorium for a state agency's hearing on a proposed $2.5 billion coal-to-diesel plant.
Some of the more than 400 people who attended Wednesday's hearing in Lincoln City voiced concerns about the project, while others supported it.
The Indiana Department of Environmental Management says the plant's emissions wouldn't have a significant effect on regional air quality.
But opponents worry about the health and environmental impacts of Riverview Energy's proposed plant, which would convert the region's coal reserves into diesel fuel and other products.
The (Jasper) Herald reports organic farm owner Jerry Steckler opposes the plant in the town of Dale, about 40 miles northeast of Evansville.
He urged IDEM staffers for help "maintaining what meager environment we have left in this area."