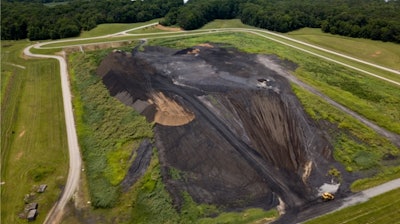 AP Photo
SPRINGFIELD, ILL. (AP) — Several environmental groups say coal ash dump sites at power plants across Illinois have contaminated the water sources of nearby communities.
The report by the Environmental Integrity Project, Earthjustice, Prairie Rivers Network and the Sierra Club released Wednesday indicates toxic pollutants emanate from 22 of 24 coal ash dump sites.
The data cited by the groups came largely from the results of tests conducted by the companies that own the power plants.
The groups behind the report are urging Governor-elect J.B. Pritzker to require coal-plant owners to stop polluting the state's protected waters and to set aside money to clean up their pits of hazardous coal ash.
New Jersey-based NRG owns several coal-fired power plants. Spokesman David Knox takes issue with the methodology used by the report's authors and said some of the contamination could come from other sources, not the company's coal ash dumps.