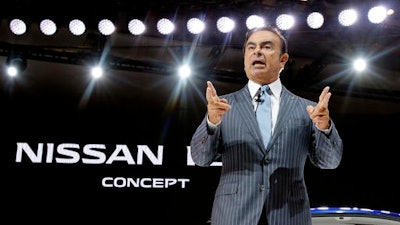 AP file
DETROIT (AP) — For years, France's Renault and Japan's Nissan struggled to make money in the global auto business.
Then came Carlos Ghosn, a Renault executive who helped to orchestrate an unprecedented transcontinental alliance, combining parts of both companies to share engineering and technology costs.
Now Ghosn's arrest in Japan for alleged financial improprieties at Nissan could put the nearly 20-year-old alliance in jeopardy.
Ghosn, 64, born in Brazil, schooled in France and of Lebanese heritage, is set to be ousted this week from his spot as Nissan chairman. He could also lose his roles as CEO and chairman of Renault, threatening the alliance formed in 1999 that's now selling more than 10 million automobiles a year.
He's been "the glue that holds Renault and Nissan together," Bernstein analyst Max Warburton wrote in a note to investors. "It is hard not to conclude that there may be a gulf opening up between Renault and Nissan."
Nissan has said it will dismiss Ghosn after he was arrested for allegedly abusing company funds and misreporting his income. That opens up a leadership void at the entire alliance, for which Ghosn officially still serves as CEO and chairman.
Ghosn added Mitsubishi to the alliance two years ago after the tiny automaker was caught in a gas-mileage cheating scandal. He had even floated the idea of a full merger between the three companies.
"Today's events throw any prospect of that up in the air," Michael Hewson, chief market analyst at CMC Markets in London, wrote in a note to investors.
Nissan CEO Hiroto Saikawa has publicly resisted the idea of an outright merger. So with Ghosn out at Nissan and probably Renault as well, the companies are unlikely to get any closer.
The companies now share technology, and they save money by jointly purchasing components.
While there could be some scrutiny of the relationships between the companies, they're so intertwined now that cutting them apart would be difficult, said Kelley Blue Book analyst Michelle Krebs. "I would not predict its demise," Krebs said of the alliance.
She said she sees further consolidation in an industry that faces unprecedented research costs for autonomous and electric vehicles, while at the same time continuing to develop cars and trucks powered by internal combustion engines.
"The last thing one of the world's biggest automakers needs is the disruption caused by an investigation into the behavior of a man who has towered over the global auto sector," said Hewson.
Nissan's board is to meet Thursday to consider Ghosn's fate. Renault, where Ghosn is also CEO, said its board will hold an emergency meeting soon, and experts say it is unlikely that he will be able to stay at the company or the broader alliance.
The brash Ghosn was once viewed as a savior in the auto business with the ability to turn around the two struggling companies. In 2006 he even proposed an alliance with global giant General Motors.
Bernstein's Warburton wrote that Ghosn's once-mighty reputation has been declining for years, while Krebs said Nissan never could meet Ghosn's goal of 10 percent U.S. market share even though it has relied on "bad behavior" such as heavy discounts and sales to rental car companies.
Saikawa reiterated Nissan's commitment to the venture, while a Renault statement expressed "dedication to the defense of Renault's interest in the alliance."