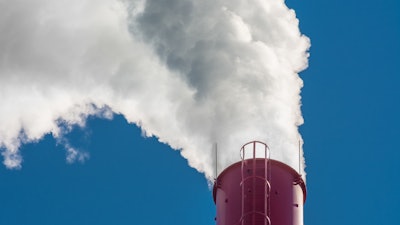 RICHMOND, Va. (AP) — Dominion Energy said in a long-awaited report on Wednesday that it would cost billions of dollars to recycle Virginia's toxic coal ash or move it to lined landfills, an endeavor that customers would pay for over several years.
Environmental groups and some lawmakers said the cost would be well worth the effort as some aging storage facilities leak chemicals or potentially lay vulnerable to hurricanes.
"This report shows that we can solve this problem forever and create some jobs while we're at it," said Democratic state Sen. Scott Surovell, whose northern Virginia district includes a coal ash site near the Potomac River.
"Most people I know don't want to have hexavalent chromium, arsenic and lead in their rockfish," Surovell said.
Coal ash is heavy metal-laden waste leftover from burning the fossil fuel to produce electricity. States such as Virginia have been sorting out what to do with the material, which has traditionally been stored in ponds or unlined landfills.
Virginia lawmakers so far have put on hold Dominion's plans to close its largest coal ash ponds by leaving them in place and putting a cover over them.
The General Assembly also mandated the report that Dominion released Wednesday. It focuses on the viability of recycling coal ash as well as hauling it away and other solutions. Coal ash can be useful for projects that involve anything from concrete to wallboard.
Dominion's report said that one company could take on all of the work for as little as $2.8 billion. Costs would grow to as much as $5.6 billion if multiple companies are hired.
The cost of Dominion's original plan, which includes leaving the facilities in place, could be as much as $1.9 billion, Dominion officials said previously.
Dominion's report focused on four facilities. They are the Bremo Power Station in Fluvanna, the Chesapeake Energy Center, Chesterfield Power Station and the Possum Point Power Station in northern Virginia.
The retired Chesapeake facility was the subject of a recent legal battle after arsenic leached into nearby waterways. The power plant sits on a peninsula between a creek and the Elizabeth River, near the mouth of the Chesapeake Bay. (A federal judge found that the discharge does not pose a threat to public health or the environment, although he ordered testing).
Virginia Gov. Ralph Northam announced Wednesday that the state and Dominion have made an agreement to ensure that older parts of the Chesapeake facility are subject to current environmental regulations.
The Southern Environmental Law Center also released a study Wednesday that found that coal ash at the Chesterfield Power Station could threaten the health of people who visit a nearby conservation area along the James River.
"This report raises some serious red flags about the long-term safety of leaving ash in leaking, unlined pits next to a popular park," said Nate Benforado, an SELC attorney.
Rob Richardson, a Dominion spokesman, said in an email that SELC's report was "blatant fear mongering."
"They have taken our data that we shared with state and local officials, our customers and the general public and compared it to a standard that has no legal or scientific relevance to water suitable for recreational use," he said.