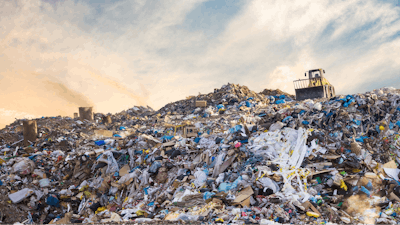 WINDHAM, Conn. (AP) — Connecticut recycling operations are struggling to cope with increasing financial pressures involving plunging prices for recycled materials, higher trucking costs, growing difficulties sorting trash and worries about President Donald Trump's tariff wars.
As their profits drop and expenses rise, many recycling operators are beginning to pass those costs on to municipalities and consumers.
"We end up charging them higher fees," said Bill Petrone, marketing manager for Berlin-based Automated Material Handling. "You have to cover your higher costs."
"Recycling is no longer a revenue generator for towns," said Tim DeVivo, who with his brother Tom owns and operates Willimantic Waste Paper in Windham.
Tim DeVivo said the markets for many recycled materials such as colored plastic and low-grade paper are "the lowest we've ever seen."
Robert Klee, Connecticut's commissioner of energy and environmental protection, said the impact of changes in the recycling marketplace is "a big issue throughout the recycling industry across the country."
China, which used to import more than $5.6 billion worth of recyclables from the U.S., is now refusing to take any recycled materials from this country. Klee said that has had a huge impact on markets globally as well as in the U.S., forcing down prices for recycled paper, plastic and other materials.
One of the ironies of the current problem is that state and local officials are pushing hard to increase the amount of recycling in Connecticut. But many people try to recycle all kinds of things that simply can't be recycled with current technology.
Plastic bags, coffee cups and covers, plastic straws, dog and cat food bags and a host of other non-recyclable materials are being dumped in single-source recycling bins. All that trash has to be sorted out and sent to incinerators.
Meanwhile, millions of single-use plastic bags are fouling expensive sorting machines. "Plastic bags are destroying our facility," Tim DeVivo said.
Two years ago, Willimantic Waste Paper was selling bales of recycled "mixed paper" like egg cartons and paper labels for $35-$40 a ton. Today, said co-owner Tom DeVivo, the company is forced to pay $10-$15 a ton to get rid of the stuff.
"It's become very difficult," DeVivo said. Some recyclables are "very hard to move right now."
At the MIRA recycling plant in Hartford, which serves 70 cities and towns across the state, the story is the same. "You're just not making as much money" selling recycled materials, said Tom Gaffey, head of the quasi-state agency's recycling program.
"We were getting $170 a ton for old newspaper (in 2016)," Gaffey said. "Today I'm getting $30 a ton."
For other types of recycled materials, such as low-grade plastics, "We have virtually no market whatsoever," according to Gaffey.
A major reason for these dramatic shifts in prices was a decision by the Chinese government in 2017 to halt its import of many types of recycled materials, and further restrictions on scrap metal, cardboard and beverage containers this year.
Connecticut recycling companies used to send thousands of tons of waste paper bales like these to China, but that nation is refusing to accept recycling materials like this from the U.S. (Gregory B. Hladky/Hartford Courant)
Those decisions, which Chinese officials attributed to environmental concerns, has resulted in massive cutbacks from the more than $5.6 billion worth of recycled goods that China used to import from the U.S.
Nations that include India, Malaysia and Vietnam have to a degree stepped up their imports of U.S. recycled materials, but experts say that can't compensate for the huge loss of China's recycling market.
"Almost three-fourths of recycling in the U.S. goes out of the country," Petrone said. "It's one of our biggest exports."
Klee said that, although much of Connecticut's recycled materials goes to domestic U.S. processors and mills, the halt in Chinese imports has created a massive recycling backup that "has flooded the market and depressed prices."
In some parts of the U.S., according to a New York Times report, recyclers unable to find markets for their low-grade paper and plastic are piling it up in warehouses or sending it to incinerators to be burned.
Gaffey said a Massachusetts recycling operation recently received permission from authorities in that state to burn thousands of tons of stockpiled paper.
At the MIRA recycling facility in South Hartford, materials that are unable to be disposed of in ordinary ways can be sent to the agency's garbage-to-energy plant as fuel to generate electricity.
The Trump administration's trade wars with China and other potential recycling-import nations is also now "hurting aluminum prices" for recycled cans, Gaffey said.
DeVivo, who runs his family's 80-year-old trash and recycling operation with his brother Tim, said new tariffs on steel are beginning to raise prices for critical machinery. "When you go to buy new machines - Holy Moly - the price of steel has gotten real high," he said.
According to DeVivo, his company has slowed hiring and made other cutbacks to trying and cope with lower recycling sale prices and higher costs.
Willimantic Waste Paper serves about 30 percent of cities and towns in this state, mostly across eastern Connecticut, and now takes in about 300 tons of recyclables a week.
Asked how long his family's company can survive before recycling prices revive, DeVivo shrugs. "Only God knows. You can do it 'til you can't do it anymore," he said.
DeVivo said his company is now absorbing the pain of lower sales prices for some materials and higher expenses when it comes to long-term contracts with municipal customers. But other customers with no long-term agreements are now being charged higher prices for recycling.
Not all recycled materials are facing price drops, according to various Connecticut experts. High-grade plastics like milk jugs, water bottles and soda containers continue to be saleable.
"This is going to be the norm for some time," Gaffey said.
MIRA, which stands for Materials Innovation and Recycling Authority and is the successor to the Connecticut Resource Recycling Authority, doesn't charge its member communities separately for recycling services. Those costs are currently included as part of the $74 per ton fee communities pay MIRA for solid waste disposal.
But Gaffey warns that his agency will, in about a year, begin negotiations with the company that operates MIRA's recycling facility, or a replacement operator. "It's going to be very difficult to get the same terms we have in this contract," he said. Any significant increases in recycling costs are likely to be passed on to member communities.
According to Gaffey, some Connecticut communities that aren't part of the MIRA system are now paying $50-$100 a ton to have their recycling handled by commercial facilities.
Another troubling issue for all the recycling officials interviewed is the problems caused by what they call "wishful recyclers," consumers that throw all kinds of stuff in recycling bins with the hope that it can be recycled.
"They want to recycle everything," said DeVivo, "and you can't recycle everything."
One Billion Plastic Bags Are Used In Connecticut Each Year
Single-use plastic bags are one of the biggest issues for recycling operations. The bags, which many communities across the state are now considering banning for charging fees for, tangle and jam equipment designed to sort out paper, glass cardboard and aluminum.
But experts say people throw lots of other un-recyclable things in recycling bins including Styrofoam, soiled cardboard like used pizza boxes, wax paper, soiled napkins, pet food bags, dryer sheets, shredded paper in plastic bags, garden hoses, plastic straws, zip lock bags, bubble wrap, cereal box bags and all kinds of construction waste.
DeVivo estimates that his company has to send 60-70 tons a week of un-recyclable materials to an incinerator in the eastern Connecticut town of Lisbon to be burned.
Klee said his agency has used a statewide advertising effort to educate people on what can be recycled and what shouldn't be put in recycling bins.
The commissioner said that, despite the problems of markets for recycled materials, rising disposal costs and "wishful recyclers," there continue to be major benefits from the recycling effort.
"In general, costs are still lower than having to handle regular municipal waste," Klee said, adding he doesn't know how long these current recycling troubles will continue.
"I don't have a crystal ball on this one," Klee said.