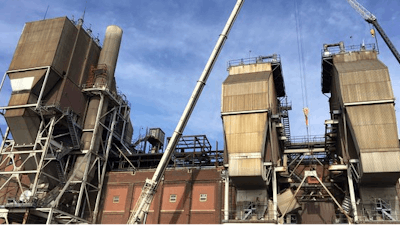 Dubuque Iowa, @DubuqueIow
DUBUQUE, Iowa (AP) — Crews have been spending months slowly deconstructing a former power plant in Dubuque but their efforts only recently became noticeable after taking down a pair of towering stacks.
The Telegraph Herald reports that Alliant Energy's Dubuque Generating Station stopped creating power more than a year ago. The facility primarily used coal until it transitioned to natural gas in 2011.
Jill Stevens is Alliant's manager of environmental and decommissioning services. She says the building will be deconstructed "carefully and meticulously." Crews recently began focusing on the building's exterior.
Alliant spokesman Mike Wagner says the decommissioning symbolizes the company's shift toward a cleaner-energy future. He says the deconstruction work will be complete by March.
Wagner says the company is unsure what they'll do with the site.