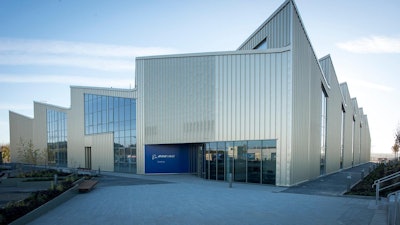 Boeing
Boeing opened a new fabrication factory in Sheffield, UK this week. The new factory, the company's first manufacturing site in Europe, makes actuation system components for the 737 and 767 jets from raw materials sourced in the UK.
At full capacity, Boeing Sheffield will produce thousands of parts each month, which will be shipped for assembly in Boeing's Portland plant in Oregon, United States.
Boeing Sheffield manufactures more than 100 different high-tech actuation components for the 737 and 767 wing trailing edge. Actuation systems move the flaps at the back of the wing to provide extra lift at low speeds during takeoff and landing.
The 6,200-square-meter facility represents a Boeing investment of more than £40 million ($51.3 million), placing the world's largest aerospace company at the heart of Sheffield City Region's growing Global Innovation Corridor.
A total of 52 employees, including experienced mechanics, engineers and more than 20 apprentices, make up the current Boeing Sheffield team.
The company highlighted 13 UK-based suppliers who have partnered with Boeing on this significant expansion in the UK. Amongst the suppliers, Aeromet International Ltd, a Worcester-based supplier of advanced aluminium and magnesium cast parts will provide Boeing Sheffield with high-strength, complex and multi-core aluminium cast parts. In addition, Maher Ltd, a first-time supplier to Boeing, will supply bespoke steel bar and pre-machined components made of UK-sourced steel from Liberty Speciality Steels, located three miles from the new Boeing factory.
Also recognized was MetLase Ltd, a first-time supplier to Boeing, which is based at the Advanced Manufacturing Park Technology Centre in Rotherham and which is Boeing Sheffield's tooling and fixturing partner. Mettis Aerospace Ltd, a designer and manufacturer of precision forged and machined components from Redditch, will supply Boeing Sheffield with steel alloy precision-forged components. The other partners are AMRC Training Centre, D5 Architects, JF Finnegan, Mills CNC, Mitutoyo, Mott MacDonald, Nikken, Starrag and WFL.
Boeing established a presence in South Yorkshire in 2001 when the company co-founded the Advanced Manufacturing Research Center (AMRC) with the University of Sheffield in Rotherham.
Boeing Sheffield is a direct result of this longstanding and successful relationship with the AMRC and its world-class research and development.
The company has initiated a major new research program with the AMRC to develop new manufacturing techniques that can be applied to the new Boeing Sheffield facility.