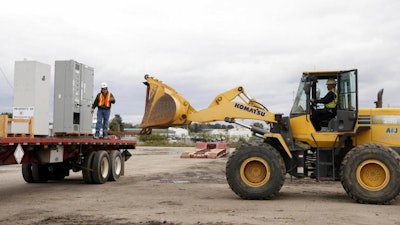 Nikos Frazier/Jackson Citizen Patriot via AP
LITCHFIELD, Mich. (AP) — A Michigan company is turning a former coal-fired power plant into a clean energy facility.
Michigan Hub, Inc. recently broke ground on the $100 million project at the Endicott Generating Plant in Litchfield. The 44-acre energy park will provide up to 168 megawatts of power to tenants, adjacent industrial facilities and local municipalities, the company said.
"Michigan Hub will craft the future with local power, supplying our tenants and customers with clean, locally-sourced electricity, steam, and chilled water at a price that will reduce their production and utility costs and increase their competitive positions," said Michigan Hub CEO Glenn Foy.
Michigan Hub plans to have 15 tenants at the site.
"We believe in a true 'hub' of forward-looking businesses that demand low-cost energy that is locally produced and reduces their carbon footprint and costs," Foy said.
Independent Barley & Malt, Inc. has been confirmed as the first tenant, according to a press release.
Independent produces malted barley and other grains for brewers and distillers. The company produces 50,000 tons of malted grains annually, according to the press release.
"Our initial interest in locating our plant in Litchfield was because of Michigan Hub's vision for the site," said Independent CEO Michael Cooper. "The synergies were immediately clear — the opportunity to access lower cost energy at an industrial site located in a thriving rural community were critical to our site selection."
The project could create up to 75 full-time jobs and is scheduled to be completed between 2020 and 2021, officials said.