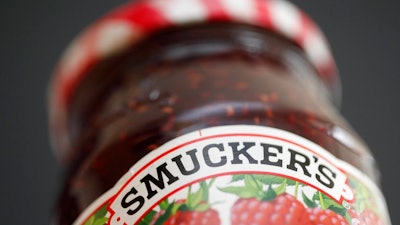 AP Photo/Matt Rourke, File
NEW YORK (AP) — J.M. Smucker is doing just about everything asked of it in trying to find areas of faster growth, while ditching some of the packaged foods that fewer people seemingly want.
It's got a long way to go, however, as seen Tuesday in Wall Street's humdrum reaction to the sale of some major brands this week such as Pillsbury.
A day after selling off its U.S. bakery division, shares of the company, off by 12 percent this year, fell 1.6 percent Tuesday.
J.M. Smucker Co., based in Orrville, Ohio, about 20 miles from Akron, announced the $375 million sale of its U.S. baking business to subsidiaries of the private equity firm Brynwood Partners on Monday.
It has been a period of volatility for some of the country's best known and long-established food producers.
Campbell Soup Co. parted ways with CEO Denise Morrison in May after posting a quarterly loss of $393 million and embarked on a strategic review of the company.
There has been changes in the top ranks of companies like General Mills Inc., Kellogg Co., Hershey Co. and Mondelez International Inc., all adapting to a shift in the way America eats (more fresh, less processing), while finding new revenue streams from areas of fast growth.
That includes crossing over into pet foods, where sales are booming. General Mills spent $8 billion on high-end pet food maker Blue Buffalo in February. Less than two months later, J.M. Smucker, which had already acquired Kibbles 'n Bits, Meow Mix and other brands, laid down $1.9 billion for Ainsworth Pet Nutrition, which makes Rachael Ray-branded dog food, another high-end pet food name.
As companies seek out growth, they are shedding brands that have fallen out of favor in American households, including this week when J.M. Smucker dumped the Pillsbury Doughboy and the rest of its U.S. baking business.
"The divestiture reflects our strategy to further focus our portfolio and develop a stronger presence in pet food, coffee, and snacking — all large, growing categories with sustainable growth projections," CEO Mark Smucker said this week.
The divestiture didn't spark much excitement from investors, who have pushed shares lower for much of the year.
Industry analysts were unimpressed by the $375 million price tag, and analysts with Stifel noted the costs of transition.
"This portfolio transformation is proving to be quite expensive and could be a harbinger as other packaged food companies execute on a similar strategy," wrote Stifel's Christopher R. Growe.
Still, the consensus on Wall Street is that J.M. Smucker is moving in the right, albeit painful at the moment, direction.
"This transaction allows management to continue to execute on its strategy of increased emphasis and resource allocation to the large and growing coffee, pet food, and snack food businesses," wrote William Blair analyst Jon Andersen.
J.M. Smucker expects the sale of its bakery division will reduce adjusted per share earnings by 25 to 30 cents on a full-year basis, but that the impact will be a slight dilution of shares in fiscal 2019.