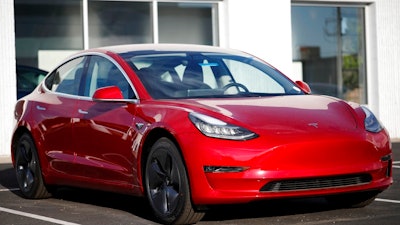 AP Photo/David Zalubowski, File
DETROIT (AP) — Tesla Inc. made 5,031 lower-priced Model 3 electric cars during the last week of June, surpassing its often-missed goal of 5,000 per week. But the company still only managed to crank out an average of 2,198 per week for the quarter.
Tesla reported making 28,578 Model 3s from April through June, according to its quarterly production release on Monday.
The Model 3, which starts at $35,000, is the key to turning Tesla from a niche maker of expensive electric cars to a profitable, mass-market automaker. The company badly needs cash from the compact cars to deliver on CEO Elon Musk's promise to post a net profit and positive cash flow in the third and fourth quarters. The company has had only two profitable quarters in its 15-year history.
To hit the 5,000-per-week mark, Tesla had to erect a second Model 3 assembly line under a tent outside its Fremont, California, factory, and Musk had to spend nights in the plant working out bugs with automation and other problems.
The company now says it expects to hit 6,000 Model 3s per week by late August, with its Model 3 assembly line under the plant's roof reaching 5,000 on its own.
"The last 12 months were some of the most difficult in Tesla's history," the company's statement said. Hitting the 5,000 mark "was not easy but it was definitely worth it," the statement said.
Tesla critics now wonder if it can keep up the 5,000-per-week rate, and they question whether it can build high-quality vehicles underneath the heavy-duty tent on the site of what once was a joint-venture factory for General Motors and Toyota.
Dave Sullivan, manager of product analysis at AutoPacific Inc. and a former manufacturing manager for Ford Motor Co., said reaching the 5,000-per-week won't make Tesla profitable by itself. He predicted the company will have trouble sustaining it because parts suppliers will have difficulty keeping up and bottlenecks will develop in the body assembly and paint shops.
Tesla, he said, delayed delivery of many of the Model 3s that it made in the second-quarter to boost revenue and achieve the third-quarter profit that Musk promised. The company books revenue when vehicles are delivered.
"They did everything they can to artificially pump up the third quarter," Sullivan said. "I think the fourth quarter will be the quarter of reckoning."
CFRA Research analyst Efraim Levy lowered his rating on Tesla shares from "Hold" to "Sell," saying he doesn't see the production rate as "operationally or financially sustainable" in the short term. Over time he expects it to rise, though. Still, the stock is trading above his 12-month price target of $300, so he recommends selling it, he wrote Monday in a note to investors.
Shares of Tesla Inc. fell around 2 percent to $336.21 in late-day trading Monday.
Consumer Edge Research Senior Analyst Jamie Albertine takes a more bullish view. He says Musk doesn't manage for quarterly results, and believes Tesla can keep producing at the current rate. "I don't believe their goal was to simply hit 5,000 a week and somehow revert to a lower production rate in the future," Albertine said. "Their goal is to hit it sustainably with high quality production."
He thinks the company can reach production of 10,000 vehicles per week, or roughly a half-million per year. That will significantly lower capital spending and other expenses so it can turn a profit, said Albertine, who has met with Tesla management.
Last summer, when the first Model 3s began rolling off the assembly line, Musk promised to build 5,000 per week by December and 10,000 per week in 2018. But he also warned at the time that Tesla was entering at least six months of "manufacturing hell."
On Monday, the company said it delivered 18,440 Model 3s during the quarter to help satisfy a waiting list that now is around 420,000. Some have been holding out for their cars since March of 2016 when the company first started taking orders. Another 11,166 Model 3s are en route to be delivered to owners, the company said.
Currently the cheapest Model 3 that can be ordered costs around $49,000, and they can run upward of $70,000. The company hasn't said when it will start producing the $35,000 version.
Tesla also said it delivered 10,930 Model S sedans and 11,370 Model X SUVs during the quarter.
Tesla burned through more than $1 billion in cash in the first quarter.
Moody's Investor Service downgraded Tesla's debt into junk territory back in March, warning that Tesla won't have cash to cover $3.7 billion for normal operations, capital expenses and debt that comes due early next year. Tesla said cash from Model 3 sales will pay the bills and drive profits.
Musk told investors on a first-quarter earnings conference call that the company relied too heavily on automation. It had to hire more people to work at the factory.