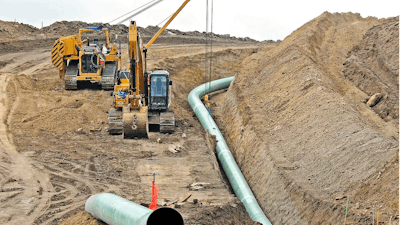 AP file
MANDAN, N.D. (AP) — A private security company accused of operating illegally in North Dakota during protests against the Dakota Access oil pipeline says it would be willing to pay fines to settle the legal dispute as long as it's not required to admit any wrongdoing.
North Dakota's Private Investigative and Security Board on Tuesday declined to immediately discuss the idea with an attorney and vice president for North Carolina-based TigerSwan but invited the company to submit its best settlement offer.
"I think the board would like to find a commonsense solution to this case that protects the public," board attorney Monte Rogneby said during a regular board meeting attended by TigerSwan attorney Lynn Boughey and Vice President Wesley Fricks.
The two implored the board to work toward settling the case that has dragged on for nearly a year.
"This is our company's tenth year of existence. We have never had an issue like this before," Fricks said.
Texas-based pipeline developer Energy Transfer Partners hired TigerSwan to handle security as construction crews laid pipe in North Dakota in 2016 and 2017 for the project heavily protested by environmentalists and American Indian tribes.
The board sued TigerSwan last June, alleging that the company had operated without a license. TigerSwan says it provided consulting services to ETP that don't require a North Dakota license and that any investigative work occurred in North Carolina, outside the board's jurisdiction.
A judge in late April rejected the board's request to ban TigerSwan from the state but didn't rule on whether the company operated illegally, which would make it subject to fines.
Boughey on Tuesday said TigerSwan is willing pay as long as the board drops the case without requiring any admission of wrongdoing and licenses the company in the state.
"A denial here can be used against us in other states," said Boughey, noting that Louisiana regulators cited the company's problems in North Dakota in denying TigerSwan a license in that state last summer.
Rogneby declined to comment after the meeting on whether a settlement offer with no admission of wrongdoing would be acceptable to the board.
He said during the meeting that the board disagrees with the company's contention that it did not conduct any on-the-ground security work in North Dakota. He also said previous settlement offers from TigerSwan were not acceptable but did not elaborate.
Boughey expressed frustration with the board, saying he has made numerous attempts to start settlement negotiations that have gone nowhere.
"We want to be done, we want to be happy campers, we want to make peace with the state of North Dakota," he said in an interview.