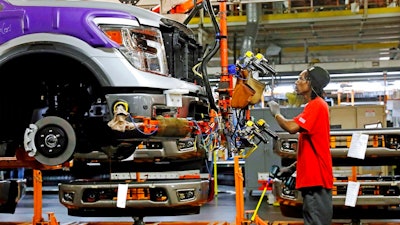 AP Photo/Rogelio V. Solis, File
WASHINGTON (AP) — U.S. factories cranked out more appliances, computers and aircraft last month, lifting manufacturing production for only the second time in five months.
The Federal Reserve said Wednesday that factory output rose 0.5 percent in April after a flat reading in March. In the past year, production has increased a modest 1.8 percent.
A broader measure of industrial production, which includes mining and utilities, rose 0.7 percent. Mining output, lifted by higher oil prices, jumped 1.1 percent. Utilities output rose 1.9 percent.
U.S. manufacturers have benefited from solid consumer spending, while also facing uncertainty because of steel and aluminum tariffs imposed by the Trump administration. The production of electrical equipment and appliances rose 1.5 percent last month, while the output of steel and other metals fell 0.5 percent.
The figures suggest that business spending may be picking up after lagging earlier this year. Congress passed a steep corporate tax cut last year intended to lift business investment in machinery and equipment, which can make the economy more productive.
Production of industrial machinery jumped 2.3 percent in April, the most in seven months. That followed three months of declines. The output of computers climbed 1.2 percent last month.
Carmakers, meanwhile, slashed production 1.3 percent in April after two months of strong gains. Auto sales have slowed after residents of Texas, Florida and other hurricane-hit areas replaced storm-damaged cars last fall.
Oil drilling companies have sharply ramped up production in the past year as oil prices have moved higher and now top $70 a barrel. That has boosted mining production 10.6 percent compared with a year ago.
Other measures of manufacturing suggest it is growing, but at a slower pace. A survey of manufacturing purchasing managers found that measures of new orders, production and jobs grew more slowly in April.