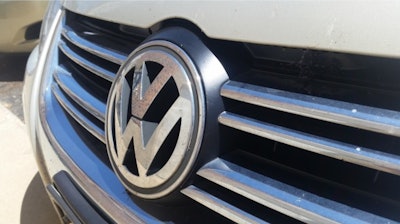 HARRISBURG, Pa. (AP) — Pennsylvania's governor said Thursday the state will use a $118 million settlement with Volkswagen over the company's cheating on emissions tests to cut air pollution in the state.
Democratic Gov. Tom Wolf told The Associated Press that he is setting up Driving PA Forward, a program to distribute grants and rebates that aim to boost air quality.
The goal is to replace older diesel engines with new technologies, and cut nitrogen oxide emissions by up to 27,700 tons.
"Clean air is the cornerstone of a clean, healthy environment," Wolf said in a statement ahead of a formal announcement in western Pennsylvania. "When Volkswagen cheated on its emissions equipment, it undermined that cornerstone."
Volkswagen Group of America Inc. is making the payment to settle complaints it sold nearly 600,000 diesel-engine autos in the U.S. with computer software that rigged the results of federal emissions tests.
Wolf said eight grant and rebate programs will operate over the next five years, with up to $39 million available in the first year.
The state will be targeting areas with the worst air quality.
"This isn't just school buses and tractor-trailers," said Wolf's environmental protection secretary, Patrick McDonnell. "Projects to replace and upgrade tugboats, forklifts, delivery trucks and many more vehicles and equipment will be eligible for funding."
The money will be used to help reduce diesel emissions, including exhaust controls, upgraded engines and new engines and vehicles. There will be grants for electric vehicle fast-charging equipment and hydrogen fuel cell vehicle supply equipment.
Volkswagen sold cars that turned on emissions controls during testing but reduced them during normal driving.
The company has pleaded guilty to criminal charges and doling out billions of dollars in fines and settlements.
After the vehicles with the emissions "defeat devices" had been sold for seven years, the International Council on Clean Transportation funded on-road testing that found a VW put out as much as 35 times the allowable amount of toxic nitrogen oxide, which can cause respiratory problems. The council alerted government regulators.