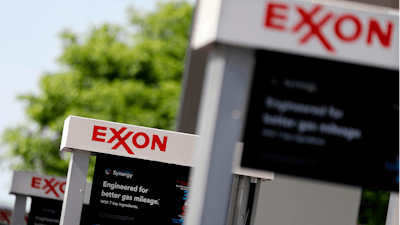 DALLAS (AP) — Motorists who are paying 40 cents a gallon more than last spring should have no trouble understanding why Exxon's profit is up. Higher oil prices drove Exxon's first-quarter profit up by 16 percent to $4.65 billion, the oil giant's best first quarter in three years, despite falling production.
The results that Exxon Mobil Corp. reported Friday fell slightly short of Wall Street expectations, however, and the shares slid after the opening bell. Oil prices have been rising on strong demand and an OPEC-led campaign to limit production. U.S. crude is up about $8 a barrel so far this year, and this month prices for U.S. and international oil struck levels not since seen late 2014.
That has pushed the price of gasoline to a nationwide average of $2.80 a gallon, up from $2.40 a year ago, according to auto club AAA. It is eating into corporate profit at fuel-dependent companies such as airlines, leading the CEO of American Airlines to predict this week that travelers will soon be paying higher fares.
That is all good for Exxon.
The Irving, Texas, company's U.S. oil and gas production turned a profit of $429 million, compared with an $18 million loss a year ago, as rigs kept busy in the Permian Basin of Texas and New Mexico and the Bakken shale fields in North Dakota. Exxon, however, still makes most of its money pumping oil and gas elsewhere in the world, and earnings in its international production business jumped by $800 million, to nearly $3.1 billion.
The company's per-share earnings of $1.09 still fell a penny of analysts' forecasts, according to a survey by FactSet, and a nickel short of expectations of analysts polled by Zacks Investment Research. Revenue rose 16 percent to $68.21 billion, which easily beat Wall Street projections.
CEO Darren Woods credited higher oil and natural gas prices, operating efficiencies and changes in the company's portfolio. Exxon strengthened its push into offshore Brazil and Guyana and nearly doubled its estimate of gas in a field in Papua New Guinea. At the same time, it sold its stake in an Australian gas field.
The company had $4.87 billion in capital expenditures, an increase of 17 percent from a year ago. Investors have pushed Exxon and other oil companies to watch capital spending closely after they overspent the last time oil prices rose, only to be caught off guard by a price collapse that began in mid-2014.
Exxon shares fell $3.16, or 3.9 percent, to $77.70 in early trading.