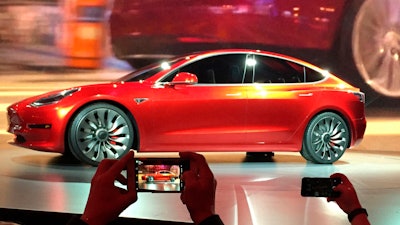 FREMONT, Calif. (AP) — Shares of Tesla Inc. traded lower Tuesday after reports that the company had shut down production of its Model 3 mass-market electric car again to solve manufacturing bottlenecks. The automaker told employees this week there would be a four- or five-day production hiatus. The company says it warned of future production pauses when it shut down the line to improve automation in February .
Tesla says shutdowns are common when a new model is launched and will improve production rates. But Autopacific analyst Dave Sullivan says manufacturing doesn't normally stop for days, especially nine months after production began.
Tesla shares dropped one percent to $287.80 in morning trading. The broader markets were up about one percent. Model 3 production began in early July in Fremont, California. Pricing starts at about $35,000.