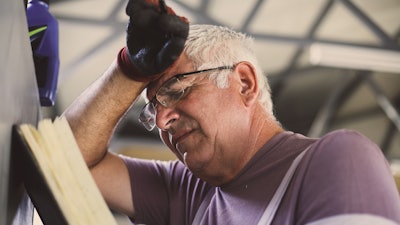 CONCORD, N.H. (AP) — An economic forecaster says New Hampshire should not let the age of its workforce shape its economic future.
Speaking at an economic forum Friday at the New Hampshire Statehouse, Ross Gittell, chancellor of the state's Community College System of New Hampshire, advised legislators to pay more attention to older adults in the state's labor force. The state must focus on ways to make them skilled, well-trained employees, he said.
"The aging of the labor force is an area of the economy that we should address, and do so in a way that helps people support themselves and realize their potential at any age," Gittell said.
The focus on older workers comes as the state is struggling with a labor shortage, driven part by the New Hampshire's 2.6 percent unemployment rate — the second lowest in the nation next to Hawaii. Businesses such as manufacturing and construction have complained about finding enough skilled labor while the service sector is worried about limits on bringing in temporary foreign workers this summer.
"What's really holding us back from growth is a lack of skilled workforce," Gittel said. Jobs that require education and specialized training beyond high school are some of the hardest to fill. Nationally, by 2022, about half of all jobs will require what Gittel called middle skills. In the past year, those types of jobs have required skills in business, financial operations and management.
Gittel said one way to address this labor shortage is to start crafting more post-education classes for older adults. The state's community college system has made its "65 by 25" goal central to their strategic plan: 65 percent of adults 25 and older in New Hampshire will have some form of post-secondary education, from certificates to advanced degrees, by 2025.