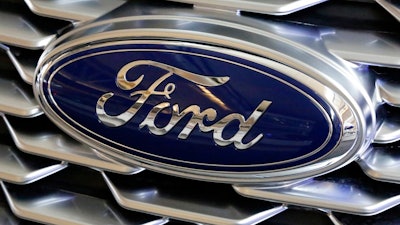 AP file
DETROIT (AP) — A jury has awarded nearly $17 million to a former Ford engineer who sued the automaker for discrimination because he says two supervisors repeatedly berated and criticized him for his Arab background and accent.
On March 28, a federal jury in Michigan ruled that Faisal Khalaf was subjected to workplace discrimination and retaliation after he reported the abuse, the Detroit Free Press reported . Khalaf was born in Lebanon and holds a PhD in industrial engineering. He worked for the automaker for more than 15 years.
"There was a high-level executive at Ford Motor Co. that my client reported to ... that would berate him and criticize him week after week about his English," said attorney Carol Laughbaum.
One of Khalaf's supervisors would slam his fist on a table and scream at him for his English, according to Laughbaum.
"It wasn't a matter of 'Please, can you repeat this?' but 'What is wrong with you? Why don't you understand this?'" she said.
The jury awarded Khalaf $15 million in punitive damages, $1.7 million in retirement and pension losses, and $100,000 for emotional distress for the actions of Ford supervisors Bennie Fowler and Jay Zhou.
A Ford representative said the company disagrees with the verdict and is pursuing options to get it "corrected."
The case was filed under a statute that allows unlimited punitive damages. The intention was to punish the defendant and deter them from future discriminatory employment practices, said Laughbaum.
The harassment started when Khalaf was placed under Fowler's supervision in 2012.
Before the supervisory change, Khalaf earned a "top achiever" performance rating. After, Khalaf received frequent and unwarranted criticism and hostility over his ability to speak and understand English. He was put into "demeaning" and "servile" positions, including being asked to bring Fowler coffee, according to the complaint.
"Literally, he made my guy his personal coffee boy," Laughbaum said.
Khalaf described the intimidation from Fowler as feeling like he was going to "crush him like an ant," Laughbaum said.
The belittling treatment continued for nearly a year, including under Zhou's supervision beginning in 2013.
Khalaf was forced to take medical leave because of the workplace stress the following year. He was terminated in 2015 after filing a discrimination charge with the Equal Employment Opportunity Commission and Michigan Department of Civil Rights.
Fowler retired in October 2017, and Zhou continues to serve as Ford's executive technical leader for quality.
Ford has been criticized for workplace discrimination before, including in a December New York Times investigation into sexual harassment at two Chicago plants.