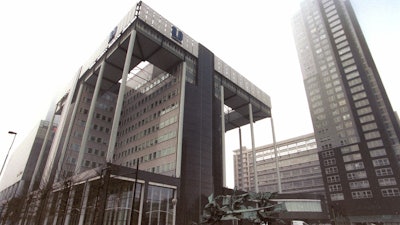 AP Photo/Peter Dejong
THE HAGUE, Netherlands (AP) — Unilever, the Anglo-Dutch consumer goods multinational whose vast stable of brands includes Dove, Knorr and Ben & Jerry's, has opted to have its sole headquarters in the Netherlands rather than Britain, ending a dual structure that goes back nearly 90 years.
The company said Thursday that the decision to pick Rotterdam over London is part of a raft of structural changes that will turn it into "a simpler, more agile and more focused business."
While Unilever made no mention of Britain's impending departure from the European Union, the decision should in practice help it manage the uncertainties of Brexit and is highly symbolic at a time of doubts over London as a global capital.
Many firms with operations across the EU are worried about the potential disruption after Britain leaves the bloc in a little more than a year's time. In a scenario where Britain and the EU fail to agree the outlines of a future relationship, tariffs could be slapped on a host of products, hobbling supply chains and raising costs for firms.
Unilever, however, argued that the move is driven by its need to simplify the company's structure. Last year, it vowed to slim down its organization and create more value for shareholders after rebuffing a $143 billion hostile takeover bid by rival Kraft Heinz.
Besides consolidating the headquarters, it will also divide its operations into three divisions — Beauty & Personal Care, Home Care, and Foods & Refreshment.
"The board believes the move to three divisions and the simplification of our corporate structure will create a simpler, more agile and more focused company with increased strategic flexibility for value-creating portfolio change," Chairman Marijn Dekkers said.
"The changes announced today also further strengthen Unilever's corporate governance, creating for the first time in our history a 'one share, one vote' principle for all our shareholders."
David Cheetham, chief market analyst at XTB, said the reasoning seems "pretty logical" given that the Dutch business represents 55 percent of Unilever's overall share capital and that the shares listed in Amsterdam are more liquid than those in London.
Though the dual headquarters will become a thing of the past, the company's shares will continue to be traded in London. On Thursday, the share price was down 1.5 percent in Amsterdam and in London.
"Whilst it is tempting to politicize this decision as a clear and obvious example of waning confidence in post-Brexit Britain, that would be remiss, with the simple facts being that it is purely business-based," Cheetham said.
Unilever made a point of saying that staff levels in both countries would be unaffected by the change. The company employs 7,300 people in Britain and 3,100 people in the Netherlands, out of nearly 170,000 worldwide. The company had sales in 2017 of more than 50 billion euros ($62 billion).
Analysts note that besides streamlining operations, the decision could help insulate Unilever from a hostile takeover of the kind Kraft Heinz attempted — Dutch laws are considered to be tougher than British ones when it comes to takeovers.
Dutch Economic Affairs Minister Eric Wiebes welcomed the announcement, saying it underscored that the Netherlands is an attractive location for big business.
"Unilever is a fantastic company to have here," Wiebes told NOS Radio. "It's a sustainable company that focuses on long-term job creation."
The British government also had a positive take, saying that Unilever was basing its two fastest-growing divisions in Britain and stressing that Brexit was not a factor. In a tweet, the Department for Business, Energy and Industrial Strategy said Unilever's decision to base its head office in Rotterdam is "part of a long-term restructuring plan of the company and is not connected to the U.K.'s departure from the EU."
Unilever was formed in 1930 by a business merger of the Dutch Margarine Unie and Britain's Lever Brothers. That led to the company's dual identity — with Unilever PLC in Britain and Unilever NV in the Netherlands technically separate companies but operating together thanks to a raft of agreements that allow them to share everything from brands and technology to identical boards of directors.
Unilever said its three divisions will be Beauty and Personal Care, Home Care and Foods and Refreshment, with the first two divisions based in London. It said that decision "secures nearly 1 billion pounds (1.1 billion euros) per year of continued spend in the U.K."