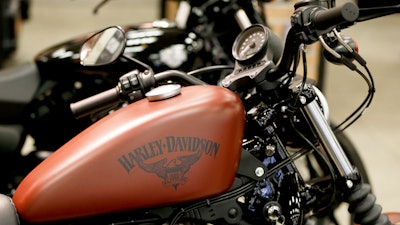 AP Photo/Keith Srakocic
NEW YORK (AP) — Harley-Davidson Inc. will close its Kansas City, Missouri plant as part of a cost-cutting move as it continues to face dwindling shipments.
The Milwaukee-based company reported a 7.9 percent drop to 241,498 motorcycle shipments in 2017 and expects the figure to continue dropping. It forecast 231,000 to 236,000 motorcycle shipments in 2018.
"The decision to consolidate our final assembly plants was made after very careful consideration of our manufacturing footprint and the appropriate capacity given the current business environment," said President and CEO Matt Levatich.
The motorcycle maker reported an 82 percent slide in fourth-quarter profit to $8.3 million, or 5 cents per share, partly on charge related to the new tax code. Earnings, adjusted for pretax expenses and non-recurring costs, were 54 cents per share.
Revenue rose 12 percent to $1.05 billion, mainly on pricing as retail sales of motorcycles fell 9.6 percent worldwide.
The results topped Wall Street expectations. The average estimate of 11 analysts surveyed by Zacks Investment Research was for earnings of 46 cents per share, while nine analysts surveyed by Zacks expected $1.01 billion in revenue.
For the year, the company earned $521.8 million, or $3.02 per share. Revenue was reported as $4.92 billion.