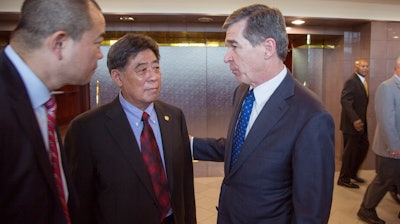 North Carolina Governors Office via AP
RALEIGH, N.C. (AP) — A Chinese tiremaker is moving more aggressively into the U.S. market, announcing plans Tuesday for a North Carolina factory that is to eventually employ 800 and produce six million tires a year.
A state committee that administers large corporate tax breaks approved plans to coax Triangle Tire to rural Edgecombe County, about 65 miles (100 kilometers) east of the state capital of Raleigh. The $580 million plant is the first in the United States for the Weihai, China-based maker of tires for passenger vehicles, trucks and buses and heavy equipment.
"We expect that this will provide a huge boost in brand awareness and interest in our products as we continue to expand our presence in the U.S.," Manny Cicero, CEO of the company's Triangle Tire USA subsidiary, said in a statement.
Triangle Tire could get up to $152 million in state and local tax breaks, worker training and other incentives if it meets hiring targets. The jobs are projected to pay an average wage of $56,450 a year, well above a county average of $32,642.
The company said in a disclosure to the Shanghai Stock Market last month that construction would start next year on a two-phase plan to first build a factory producing 5 million passenger cars a year. That would be followed by production lines churning out 1 million commercial vehicle tires a year. The company added that construction is expected to take two to three years for each project.
The Triangle factory marks at least the third Chinese tiremaker to build production plants in the U.S.
Wanli Tire Corp. said in June it plans to build a factory employing at least 400 people and later rising to 1,200 in South Carolina, America's tire-producing capital. Sentury Tire announced plans in 2016 to develop a $530 million factory in LaGrange, Ga.
Triangle was the third-largest tire Chinese manufacturer based on 2015 global sales, according to Tire Business, an Akron, Ohio-based trade newspaper. Triangle ranked 17th among tire companies in worldwide sales, the newspaper estimated.
The plant is to be located on a nearly 1,500-acre (600-hectare) site between Rocky Mount and Tarboro, which was offered as a location to potential manufacturers needing lots of space by the economic development groups that assembled it. The site is near the major Interstate 95 road corridor and borders a CSX Transportation rail line. Triangle's operation would use about 400 acres (160 hectares) of that site, state Commerce Department spokesman David Rhodes said.
Triangle Tire has exported to the U.S. market for more than two decades and established its U.S. subsidiary in Franklin, Tennessee, nearly two years ago, the company's web site said.
Its parent company, Triangle Tyre Co. Ltd., manufactures more than 25 million tires a year that are sold in more than 180 countries. The company's manufacturing systems are highly automated and the company is working on tires with built-in chips that monitor and collect information about road conditions, temperature and tire wear and damage.