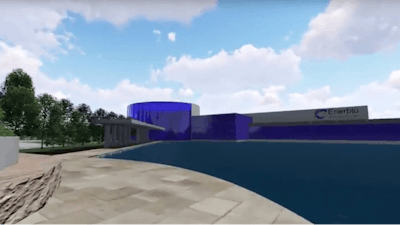 EnerBlu
A maker of lithium batteries is promising to provide an economic jolt to the Appalachian region, announcing plans Friday to relocate from California to Kentucky and build a factory employing hundreds of workers in an area reeling from the coal industry's decline.
EnerBlu Inc. announced it will invest $372 million and create 875 full-time jobs in eastern Kentucky with the production facility in Pikeville. The company also will move its headquarters from Riverside, California, bringing another $40 million investment and 110 administrative, research-and-development and executive jobs to Lexington, Kentucky's second-largest city.
The Kentucky Economic Development Finance Authority has given preliminary approval for incentives worth up to $30 million over 15 years for EnerBlu's facilities.
Republican Gov. Matt Bevin and U.S. Rep. Hal Rogers were among state and regional leaders who gathered in Pikeville to cheer EnerBlu's announcement. The governor predicted the company's arrival would transform a region where coal jobs have disappeared.
"We are not going to live down to the stereoptypes people have of us," the governor said. "We're going to dispel those, and we're going to rise above them and blow people's minds."
Rogers, who represents eastern Kentucky, called the announcement a "big step" toward "evolving the economy of a whole region."
It shows other businesses that eastern Kentucky "is a good place to be," the Republican congressman said. "This is where we've got a lot of workers needing work that are ... capable, ready to go," he said.
Rogers also expressed hopes that people who left their homes in search of jobs will come back.
"We've got a labor pool that extends far beyond the boundaries of eastern Kentucky, dying to come home," he said. "And this will give them a chance to do just that."
The company pointed to the availability of workers, low power costs and Kentucky's location within a day's drive of 65 percent of the nation's population as factors in its choice.
"You cannot imagine how thrilling it is to play a part in helping revitalize a region and put coal miners back to work through retraining and good jobs," said Michael Weber, executive chairman at EnerBlu. "It is tremendously gratifying to be more than just a company that sells products, but to also make an impact on people's lives."
The Pikeville plant will manufacture rechargeable lithium titanate batteries that power transit buses, commercial trucks, military vehicles and other equipment. Construction is scheduled to start in mid-2018, with the opening in 2020. The new headquarters office is expected to open early next year.
Also in eastern Kentucky, Braidy Industries announced plans in April to build a $1.3 billion aluminum plant in Greenup County that would create 550 full time jobs. Kentucky taxpayers own 20 percent of the company after the state legislature approved a last-minute request from Bevin, without knowing how the money would be spent.