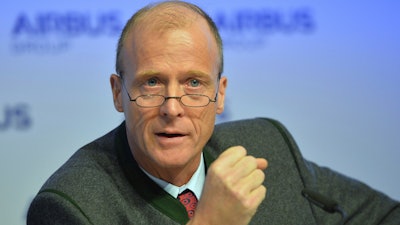 AP Photo/Kerstin Joensson, File
PARIS (AP) — Airbus said Friday that its CEO, Tom Enders, will step down in 2019, as the European airplane maker shakes up management amid multiple corruption investigations.
The company said Enders, who will have been at the helm of Airbus and defense firm EADS for 14 years, won't seek another term when his current term expires.
Enders has been a key figure as Airbus has jockeyed with U.S. rival Boeing over the past decade to be the world's top-selling plane maker.
The 59-year-old was quoted Friday as saying Airbus needs "fresh minds for the 2020s" and that he would use the remainder of his time to ensure a smooth transition and to strengthen the company's ethics and compliance programs.
Also leaving is the chief operating officer and president of the commercial aircraft division, Fabrice Bregier, who will step down next February.
He will be succeeded by Guillaume Faury, currently CEO of Airbus Helicopters. Enders described Faury as part of "the next generation of leaders," which could suggest he is being groomed to eventually take over as CEO of the overall Airbus Group.
The announcement came weeks after Airbus announced it is replacing its combative, long-serving sales chief, John Leahy. He's being replaced by an outside executive, from Rolls Royce.
The big challenge for incoming Airbus management will be legal investigations.
Authorities in Britain and France are investigating alleged fraud and bribery related to Airbus' use of outside consultants in commercial plane sales. Airbus has warned that the investigations could lead to "significant penalties" and promised to stop working with middlemen.
Meanwhile, Austria is investigating suspected fraud in the government's purchase of Airbus combat aircraft.
It's a bumpy time for Airbus, which recently saw a major deal with Gulf carrier Emirates for A380 superjumbos fall apart at the last minute at the Dubai Air Show. The airline handed the contract to Boeing instead.
Shares were little changed Friday, as management changes were expected.
Airbus had revenues of 67 billion euros ($79 billion) last year and employs 134,000 staff worldwide.