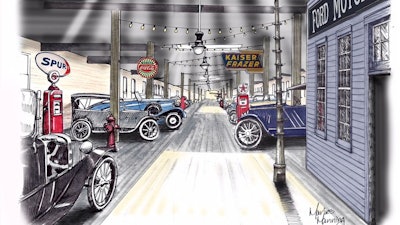 Ted O'Dell
JACKSON, Mich. (AP) — An old car factory in Michigan will be transformed into an auto museum after a $1.4 million restoration.
The Hackett Auto Museum in Jackson is expected to be completed by the summer of 2019, the Jackson Citizen Patriot reported . 
The 14,000-square-foot building was built around 1910 and first used by the Standard Electric Automobile Company. Over the years it housed multiple manufacturers including Lewis Spring and Axle Company, Argo Motor Company, Briscoe Motor Company and Hackett Motor Company. 
"There's so much incredible automotive history in this building," said Ted O'Dell, the renovation project's leader. 
The facility eventually became a storage location for the Jackson Citizen Patriot. 
O'Dell said he already has a dozen cars and an airplane for the museum, including a Model A, Model T, a 1913 Cartercar, a 1948 Frazer Manhattan and a 1966 Mustang. O'Dell said many of the vehicles were made in Michigan and he's searching out cars that were specifically manufactured in Jackson. 
"I'm trying to put together a small collection of cars significant to Jackson," O'Dell said. "I want this to be the permanent home." 
O'Dell said he's seeking local, state and federal funding for the project. He hopes to begin construction early next year. 
"I think it's important to save history so we pass it on to the next generation," O'Dell said. "It's the old saying, 'If you don't know your history, you'll be doomed to repeat it.'" 
The museum will be open from Tuesdays to Sundays once it's completed.