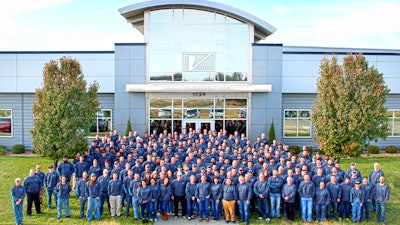 Salina, KS-based Vortex is celebrating 40 years of designing and manufacturing slide gates, diverter valves, iris diaphragms and loading spouts for use in gravity flow, dilute phase and dense phase pneumatic conveying applications.
Vortex was founded in 1977 by Loren Neil Peterson and his son-in-law, Lee Young. The company was established with its patented Vortex Orifice Gate – the first valve designed specifically for handling dry bulk solid materials.
Since then, Vortex has established more than 20 valve designs which are being used by more than 20,000 factories in 80 countries to handle thousands of material types.
In October 2014, the company completed a 64,000 square foot expansion of its corporate headquarters to accommodate growing customer demands for production, and to bring loading spout production in-house.