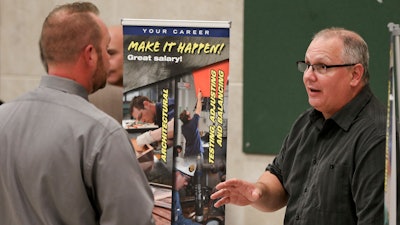 AP Photo/Keith Srakocic
WASHINGTON (AP) — The number of Americans filing applications for unemployment benefits edged up again last week to a still-low 249,000. Meanwhile, the overall number of people collecting unemployment benefits fell to a near 44-year low, further evidence that Americans enjoy job security.
THE NUMBERS: Applications for jobless aid rose by a seasonally adjusted 10,000 last week after a similar increase in the previous week, the Labor Department reported Thursday.
The four-week average, which smooths out week-to-week volatility, rose to 237,750, an increase of 6,500. But the number of people receiving benefits fell to 1.89 million, a drop of 44,000, putting this figure at the lowest level since Dec. 29, 1973.
KEY DRIVERS: Applications for unemployment benefits are a proxy for layoffs. The level of unemployment benefits has been below 300,000 for more than two years, a stretch not equaled in more than four decades. The government reported that employers added 261,000 jobs in October as many businesses in Texas and Florida re-opened after being hit by devastating hurricanes. The unemployment rate last month fell to 4.1 percent, the lowest level in nearly 17 years.
The Labor Department said that claims-taking procedures remain severely disrupted in the Virgin Islands, but the application process has improved in Puerto Rico where officials are now working through backlogged claims.
THE TAKEAWAY: The weekly unemployment benefits report suggests that the economic recovery that began in mid-2009, now the third longest in U.S. history, is moving forward. The economy, as measured by the gross domestic product, grew at a 3 percent rate in the July-September quarter after a 3.1 percent pace in the second quarter, the first back-to-back gains of 3 percent or better in three years.