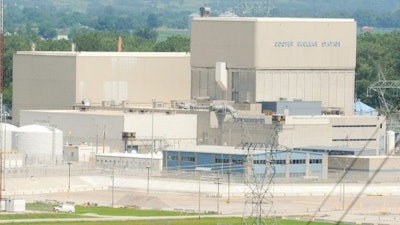 AP Photo
OMAHA, Neb. (AP) — A coolant leak in one of Cooper nuclear power plant's turbines in southeast Nebraska has been repaired.
Nebraska Public Power District spokesman Mark Becker said the hydrogen leak was repaired before 6 p.m. Tuesday. The leak was discovered earlier that day by maintenance workers.
The utility says the leak didn't represent a safety threat, and it wasn't in the power plant's nuclear systems. The hydrogen is used to help cool the turbine.
The plant near Brownville, Nebraska, continued operating after the leak was found Tuesday morning.
The utility notified regulators about the problem, and issued what the Nuclear Regulatory Commission calls a notice of unusual event.