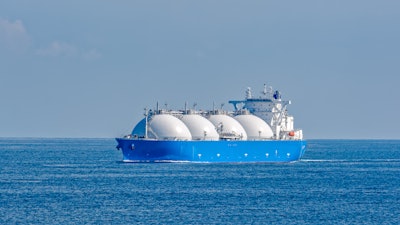 TOKYO (AP) — The U.S. is keen to work with Japan in expanding exports of U.S. liquefied natural gas in Asia, and hopes for more Japanese investment in American natural gas infrastructure, a senior Department of Energy official said Wednesday.
Japan's trade and industry minister announced Wednesday plans for a $10 billion public-private effort to build LNG terminals, power plants and other facilities to help meet rising energy demand in Asia.
"The global demand for liquefied natural gas is rising sharply and the expansionary trend will continue for a while, mainly in Asia," Hiroshige Seko, ministry of the economy, trade and industry, told a conference in Tokyo.
Seko also said Japan hoped to build a market for price setting of LNG, long an issue of concern for the world's largest importer of natural gas. Japan's imports soared after the 2011 earthquake and tsunami along its northeastern coast triggered meltdowns that led to the shutdowns of all its nuclear reactors. Only a few have been restarted.
U.S. Deputy Energy Secretary Dan Brouillette, who is visiting Tokyo, described Japan's plan to support investments in LNG facilities as "fantastic."
"I thanked Minister Seko personally for that announcement today," he said. "We see Japan not only as a customer but a valued partner and investor in our infrastructure."
Many of the fastest growing markets in the Asian-Pacific region lack terminals and other infrastructure needed to increase their LNG imports.
Exports of natural gas from the U.S. were restricted for decades but such limits have loosened and the Trump administration is pushing for increased energy exports.
Japan has been importing LNG from Alaska since 1969. But the first international shipment of liquefied natural gas in decades from the Lower 48 states was shipped to Brazil from Louisiana just last year. Earlier this month, India received its first ever shipment of U.S. natural gas.
Efforts to expand LNG facilities needed to handle those exports on the west coast of the U.S. have run into opposition from local communities that object to such large projects on environmental grounds.
Energy Secretary Rick Perry has said energy companies seeking to export LNG from huge terminals in Texas, Louisiana and other states will be able to do so if they meet requirements.