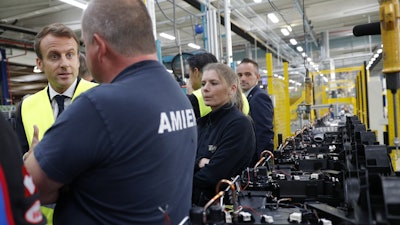 Philippe Wojazer/Pool Photo via AP
AMIENS, France (AP) — French President Emmanuel Macron has visited an ailing Whirlpool dryer factory in northern France that was a symbol of the battle for jobs during the presidential campaign.
The factory in Amiens was taken over in September by a local industry group that promised to maintain most of the jobs.
Macron on Tuesday welcomed the "good news" and met with employees in a relaxed atmosphere.
He told reporters: "We must make the French territory more attractive" to investors.
During the presidential campaign, far-right candidate Marine Le Pen upstaged Macron at the factory, which was threatened with closure.
Le Pen's surprise appearance prompted Macron to meet with angry workers. He was booed when he first arrived, but stood his ground, patiently debating about how to stop French jobs from moving abroad.