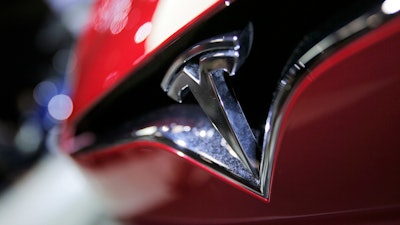 DETROIT (AP) — Tesla Inc. is denying claims that it tried to prevent employees from passing out union leaflets at its Fremont, California, factory.
The National Labor Relations Board filed a complaint against Tesla earlier this month, citing multiple incidents at its Fremont assembly plant.
Tesla responded late last week. The Associated Press obtained Tesla's response Thursday through a Freedom of Information Act request.
Some workers allege that Tesla's security guards refused to let them pass out leaflets about the United Auto Workers union. They also claim that a Tesla supervisor threatened to fire employees if they passed out stickers, leaflets or other materials not approved by Tesla. The company denies those claims.
The National Labor Relations Board has scheduled a November hearing on the issue in Oakland, California.