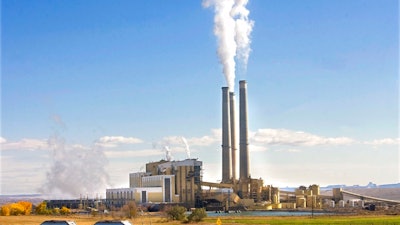 Al Hartmann/The Salt Lake Tribune via AP, File
SALT LAKE CITY (AP) — An appeals court granted a request Monday from President Donald Trump's administration to halt a plan for new pollution controls at Utah's oldest coal-fired power plants aimed at reducing haze near national parks.
The development marks a reversal for the U.S. Environmental Protection Agency, which last year under Barack Obama unveiled the rules and defended itself in a lawsuit brought by Utah and Rocky Mountain Power.
The 10th Circuit Court of Appeals approved EPA administrator Scott Pruitt's request to halt that lawsuit while his agency revises a plan that called for new equipment to reduce nitrogen oxide emissions at two coal plants in Emery County.
Environmental and clean air groups expressed dismay over the decision Monday that they say rejects EPA's own research that showed the plan would have cut down haze near eastern Utah's Arches and Canyonlands national parks, in addition to other conservation and wilderness areas.
The move by the EPA wasn't a surprise. While visiting Salt Lake City and meeting with Republican Gov. Gary Herbert in July, Pruitt said his agency was reconsidering the plan.
The move is part of a troubling nationwide rollback of key environmental protections by the Trump administration, said Michael Shea, a senior policy associate with the clean air group HEAL Utah.
"We all knew that things were going to be bad and this is kind of the first big hit that Utah has taken as far as the rollback," Shea said. "This is a loss for not only the environmental movement, but for anybody who loves Utah's national parks."
But Utah state officials and Rocky Mountain Power said they're pleased the state's plan can be reconsidered. They opposed the federal plan they said would have cost about $700 million — which would have been passed on to customers — without cutting emissions and improving visibility.
Dave McNeill, planning manager with the Utah Division of Air Quality, said the state worked for years to develop its own plan in coordination with regional EPA officials who he says were surprised when officials at EPA headquarters spiked the plan and called for the new equipment. McNeill claims that plan was already working.
"There was a lot of scientific data that was basically ignored in the old administration," McNeill said. "It was a 'war on coal' issue that the old administration was going through."
McNeill said the shuttering of another carbon power plant in the system and requirement to add equipment to decrease harmful emissions is already having a positive impact.
Rocky Mountain Power spokesman David Eskelsen said in a statement the utility company supports the state plan that it believes is based on science and good public policy.
Hundreds of residents from central Utah communities that rely heavily on coal packed public hearings about the plan to show their opposition to more regulations.
The National Park Service supported the other plan to require more emission-reducing equipment, saying Arches and Canyonlands National Parks experience haze on eight in 10 days. Officials at those national parks didn't immediately have comment.
Cory MacNulty, the senior program manager in Utah for the National Parks Conservation Association, said the haze is negatively impacting visits for hundreds of thousands of people who travel to see southern Utah's red rock expanses. Her group is among the organizations fighting to keep the new rules in place.
"A lot of the experience is the views across the landscape," MacNulty said.