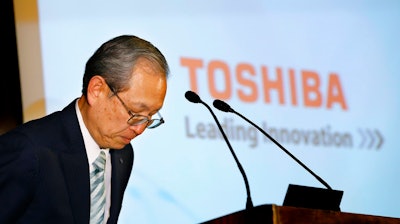 AP Photo/Shizuo Kambayashi
TOKYO (AP) — Auditors signed off, belatedly, on Toshiba Corp.'s earnings Thursday, meaning the embattled Japanese electronics and nuclear company will likely avert delisting, for now. But the auditors, PriceWaterhouseCoopers Aarata, cautioned about remaining risks in a separate statement.
The approval had not come on schedule because of concerns about Toshiba's money-losing nuclear business in the United States. Toshiba's U.S. nuclear unit, Westinghouse Electric Co., filed for bankruptcy protection in March.
Reactors that Westinghouse was building there were behind schedule, partly because of beefed-up safety regulations following the 2011 Fukushima nuclear disaster. Westinghouse's reactor projects in South Carolina were abandoned earlier this month after the towering costs were weighed.
Toshiba is still mired in legal wrangling with joint venture partner Western Digital of the U.S., which is opposing Toshiba's attempt to sell its computer memory chip business to gain the cash it needs to survive, and has taken legal action.
Thursday was the deadline for the auditors' approval. It had released preliminary earnings earlier, without the approval, to stave off delisting, though the company was later moved to the Tokyo Stock Exchange's second section from its first section.
"Our earnings have now been normalized," Toshiba President Satoshi Tsunakawa told reporters.
He reiterated the company was working hard to revive itself and regain value for shareholders. He said no additional losses were expected related to its U.S. nuclear business, after the bankruptcy filing and other settlements it has reached there.
He said Toshiba was still in talks with various partners on the memory chip sales, while declining to comment in detail on why the agreement was being delayed. He acknowledged major obstacles remained, but stressed he was determined to go through with a sale.
Thursday's auditors' approval came after a seven-month investigation into the issues raised by the auditors, centered on whether Toshiba had known in advance the subsequent losses that emerged related to Westinghouse's acquisition of CB&I Stone & Webster, a nuclear construction and services business.
Tsunakawa said he stood behind the decision, although he acknowledged more due diligence might have been needed and the company intended to beef up its risk management.
The investigation included widespread interviews and checking into emails, according to Toshiba.
Toshiba reported a 965.7 billion yen ($8.8 billion) loss for the fiscal year through March Thursday, worse than the 460 billion yen loss racked up the previous fiscal year, and similar to what it had reported before.
It had earlier warned such losses might balloon to nearly 1 trillion yen ($9 billion), and had given similar figures for the earnings.
Toshiba also reported first quarter earnings Thursday, a return to profit April-June at 50 billion yen ($458 million) after Westinghouse was removed from Toshiba's books.
Toshiba — whose sprawling business included everything from TV sets to high-speed trains — still faces the daunting responsibility of keeping under control and decommissioning the Fukushima Dai-ichi nuclear plant. Three reactors there suffered meltdowns after a massive earthquake and tsunami in northeastern Japan in 2011.
Toshiba said, for the quarter through March, it marked solid profit in its memory chip and energy businesses. But if a sale goes through, the revenue and profit from the chip business will be retroactively deducted from its books for the fiscal year.