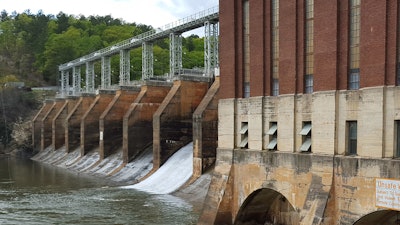 GE
GE Renewable Energy and Cube Hydro Partners have entered into an agreement to provide three aerating turbines for the High Rock plant in North Carolina.
The first of three 13.4 MW units will be delivered in the fall of 2018 and become operational in the spring of 2019.
The aerating turbine developed by GE Renewable Energy's Hydro Solutions business provides a unique environmental benefit for fish and other aquatic wildlife downstream of hydroelectric power plants by increasing the amount of oxygen in the rivers. This benefit is achieved by drawing air into the turbine. The oxygen in the air is transferred to the water and increases the dissolved oxygen levels downstream of the river.
GE Hydro Solutions's advanced R&D program on dissolved oxygen enhancement technologies is part of a GE Renewable Energy global R&D network for hydro research and aligned with GE's company-wide Global Research organization that includes 5 research facilities and 2,000 PhDs, scientists and engineers around the world who span multiple industry sectors.