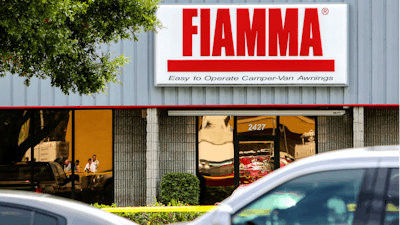 Jacob Langston/Orlando Sentinel
ORLANDO, Fla. (AP) — A disgruntled former employee opened fire Monday inside a Florida awning factory, killing five workers before killing himself, authorities said.
Orange County Sheriff Jerry Demings described the shooter as a 45-year-old man who had been fired in April and had been previously accused of assaulting a co-worker. The attacker was not believed to be a member of any type of subversive or terrorist organization, he said.
The man was not charged when he was accused of battering the co-worker in June 2014, and his previous criminal record was otherwise minor — marijuana possession and driving under the influence, the sheriff said. The co-worker he allegedly beat up three years ago was not among the victims Monday, the sheriff added.
Shelley Adams said her sister, Sheila McIntyre, called her from the company's bathroom during the shooting and kept repeating, "My boss is dead. My boss is dead."
Fiamma Inc. calls itself one of the largest manufacturers of awnings for camper vans, motor coaches and sport utility vehicles.
State and federal law enforcement officers converged on the awning business in an industrial park in Orlando shortly after 8 a.m. after a woman ran out and called 911 from a tile business across the street, said Yamaris Gomez, that store's owner.
"All she kept saying was he was holding a gun and told her to get out," Gomez said.
Officers were dispatched within 45 seconds and arrived two minutes later, the sheriff said. The FBI also responded, said Ron Hopper, who runs the FBI's Orlando office. And while five people were killed, "seven others' lives were saved due to the quick actions of the officers who arrived on the scene today," said Special Agent Danny Banks of the Florida Department of Law Enforcement.
Authorities had no reports of any specific threats the gunman made to people at the company or anyone else, Banks said.
The attack shows why people need to alert authorities whenever they learn of anything that could lead to violence, Banks said.
"If people see something that seems abnormal, they need to say something," Orlando Mayor Teresa Jacobs added.
Sen. Bill Nelson called for more action to address mental health issues. He noted that next Monday will mark a year since the worst mass shooting in modern U.S. history, at a gay nightclub in Orlando. The attack at the Pulse club killed 49 people and wounded dozens more.
"The city of Orlando, which is still healing from the Pulse massacre, has seen too much violence this past year," the Florida Democrat said in a statement.
Republican Gov. Rick Scott asked "all Floridians to pray for the families impacted by this senseless act of violence."