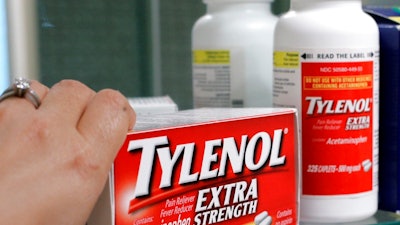 AP Photo/Paul Sakuma, file
TRENTON, N.J. (AP) — Johnson & Johnson has reached a $33 million settlement with 42 states, resolving allegations the health care giant sold nonprescription medicines that didn't meet federal quality requirements.
The settlement was announced Wednesday by attorneys general from the states. The case dates to 2009, when Johnson & Johnson began dozens of voluntary recalls of popular over-the-counter medicines for children and adults, including Tylenol, Motrin and Benadryl.
Those and several other products made at J&J factories in Puerto Rico and suburban Philadelphia were recalled for issues including unpleasant smells that nauseated some consumers, tiny metal shards in liquid medicines and wrong ingredient levels. Many products weren't available in stores for several years, and Johnson & Johnson had to raze and rebuild a huge consumer-medicine factory in Fort Washington, Pennsylvania.
In a statement, the New Brunswick, New Jersey-based company said it was pleased to finalize the settlement and noted that the recalls had been precautionary.
The settlement requires Johnson & Johnson to pay a total of $33 million, which is being divided among the District of Columbia and the 42 states that joined in the case. The states not participating are: Alabama, Georgia, Iowa, Mississippi, Oklahoma, Oregon, Utah and Wyoming.
According to court documents, attorneys general in the 42 states sued Johnson & Johnson because they considered its marketing of substandard nonprescription medicines to be fraudulent or otherwise illegal. The products, which also included St. Joseph aspirin, Sudafed, Pepcid, Mylanta, Rolaids, Zyrtec and Zyrtec Eye Drops, did not meet U.S. quality requirements for drug manufacturing.
Along with embarrassing public recalls of tens of millions of bottles of the medicines between 2009 and 2011, Johnson & Johnson in 2009 also conducted a "stealth recall" of Motrin packages that resulted in a Congressional investigation. The company paid secret shoppers to quietly buy Motrin packages from convenience stores and other retailers without identifying themselves or acknowledging that some Motrin tablets had been found to not dissolve properly.
The settlement also includes an agreement that Johnson & Johnson's McNeil Consumer Healthcare unit must follow correct procedures for resolving any manufacturing issues with its nonprescription drugs and may not advertise on its website any product that has had a significant recall within the past year.