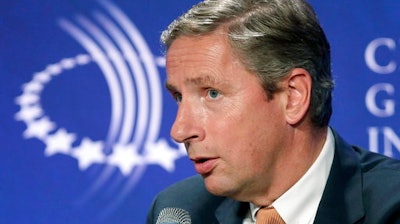 AP Photo/Mark Lennihan, File
NEW YORK (AP) — The former chairman and CEO of Arconic, who resigned suddenly this week, appears to have been brought down by a letter containing veiled threats to the company's largest shareholder, a hedge fund that was seeking his removal.
The firm says the letter was delivered along with a commemorative soccer ball by an Arconic company messenger.
Activist investor Elliott Management, which had been pushing Arconic to replace CEO Klaus Kleinfeld since January, published the letter it said Kleinfeld sent to Elliott founder and president Paul Singer.
The letter refers to celebrations during 2006 FIFA World Cup in Berlin. It makes unexplained comments about the title song from the musical "Singin' in the Rain," and suggests Singer's celebrations after the tournament could become "lastingly legendary" if they were made public.
That letter was dated April 11. The hedge fund's legal counsel contacted the Arconic board the following day and suggested Kleinfeld was trying to "intimidate or extort Mr. Singer." By Monday the company said Kleinfeld had agreed to resign.
Elliott is the biggest owner of Arconic shares, and at the end of January it nominated five candidates for the company's 13-person board of directors. It said the company's stock performance was disappointing and that it needed new leadership.
The company backed Kleinfeld's leadership at the time, but Elliott's aims were ultimately achieved when Kleinfeld abruptly resigned. The board said his letter "showed poor judgment," although it did not say what Kleinfeld had told Elliott Management. Arconic declined to comment Thursday.
"I've never seen anything like this at all. The adjectives that come to mind are both 'bizarre' and 'juvenile,'" said Lawrence Hamermesh, a professor of corporate and business law at Delaware Law School.
Hamermesh says disputes between executives and unhappy shareholders can turn harsh if the two sides have big disagreements about a company's business and its future. But while those disputes can be bitter and might involve allegations of bad intentions and poor judgment, he said they don't normally include vague allegations of personal misbehavior that aren't related to any business.
Arconic makes aluminum, titanium and nickel parts for planes, cars and electronics. The New York-based company was spun off from aluminum company Alcoa in November. Kleinfeld was chairman and CEO of Alcoa for years prior to the move.
Alcoa was once a Dow Jones industrial average component, but its business suffered for years as its mining and smelting units were hurt by stubbornly low prices for aluminum and competition from China.
Shareholders pressured the company to break off its more successful business into a separate company, which became Arconic. But in its first few months as an independent company, the shares did not do as well as their competitors or the broader stock market, which disappointed investors.
The stock surged from about $22 in late January to $30 in February after Elliott disclosed its investment and started pushing for changes. The stock rose after Arconic said Kleinfeld stepped down, although it quickly gave up those gains. On Thursday it rose 14 cents to $26.11.