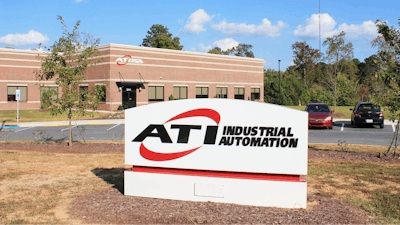 ATI
APEX, N.C. -- ATI Industrial Automation will break ground on the expansion of its corporate and manufacturing headquarters in Apex, NC, on Friday, April 21.
The expansion — the largest in ATI's 28-year history — will increase the size of its facility to 185,000 square feet.
Accordint to ATI Chairman Keith Morris, the expansion is a result in the growth in demand for the company's robotic end-effectors.
ATI formed in 1989 as the brainchild of engineers Keith Morris, Chairman; Robert Little, CEO; and Dwayne Perry, Chief Sensor Technologist. Since then, the firm has grown from a small team with a tiny office in Garner, NC, to a global work force of 300 employee-owners.
The new addition will increase the size of the engineering, warehouse, and production floor areas, and will be staffed by 275 new employees.
The expansion also means quicker turnaround of new designs, and increased production capacities to keep lead times short.
The expansion gives way to a new engineering and robotic lab to further develop end effectors, which are typically used to optimize industrial applications.
According to CEO Robert Little, ATI's diverse customer base has allowed the company to succeed despite a fluctuating global economy and lower-cost overseas competition.
Corporate and manufacturing headquarters are located in Apex, NC, but ATI also has offices in Michigan, China, Mexico, and Brazil.