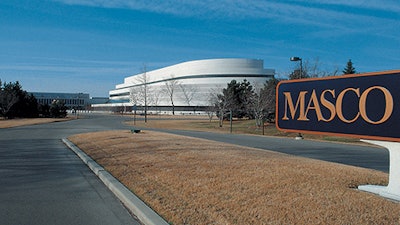 Masco Corporation
Yesterday, Ford Land announced an agreement with Masco Corporation to lease buildings in nearby Taylor, Michigan, as that company is moving its headquarters.
Ford will use the buildings as transitional office space for nearly 1,000 employees as the automaker continues to transform its Dearborn campus.
The announcement is part of Ford's 10-year transformation of its more than 60-year-old Dearborn facilities, which will co-locate 30,000 employees from 70 buildings today into primarily two locations – a product campus and a world headquarters campus.
The four-story, 416,000-square-foot building has ample office and open collaboration workspace, an indoor courtyard, full-service café and 24-hour fitness center.
Ford employee shuttle service will be expanded to include the new location, which is less than five miles from the Dearborn campus.
Last year, Masco announced plans to relocate its headquarters from Taylor to Livonia, Michigan. The company plans to complete the move by June. Ford will move into the building shortly thereafter.
Ford has also leased an adjacent 140,000-square-foot former retail store owned by Masco.
The space will be used for additional capacity throughout Ford's Dearborn campus transformation.