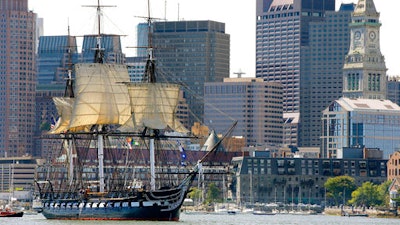 AP Photo/Stephan Savoia, File
BOSTON (AP) — "Old Ironsides" is finishing up a two-year stint in dry dock.
Navy officials on Wednesday are slated to offer a closer look at the restoration work on the USS Constitution as it nears completion at the Charlestown Navy Yard in Boston.
The world's oldest commissioned warship afloat returns to the waters in late July. It enters dry dock for below-the-waterline repairs every 20 years.
Nearly 100 white oak hull planks were replaced during this latest round. The lower hull also was re-caulked and covered with 2,200 copper sheets. The process is chronicled on the ship museum's blog and live photo feed.
The public will have limited access to the USS Constitution through September while work is completed. The ship earned its famous nickname notching victories in the War of 1812.