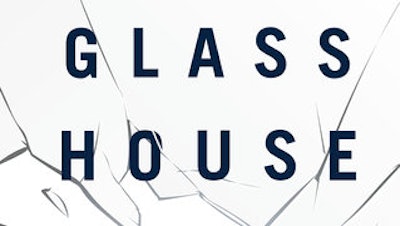 St. Martin's Press via AP
COLUMBUS, Ohio (AP) — A book that examines the history of a longtime glass manufacturing company and the corresponding changes of an American city is the latest best-seller to explore economic and social trends in the country through the lens of Ohio communities.
"Glass House: The 1% Economy and the Shattering of the All-American Town" focuses on Lancaster in central Ohio and the glass company most residents still refer to as Anchor Hocking.
Journalist author Brian Alexander, who grew up in the city, explores what happened after outside firms took over Anchor Hocking and chipped away at its local roots. The company's headquarters was closed in 1987 after Newell Corporation bought the company, and 300 office workers were fired.
"A core group of Lancaster's leadership class, and their all-important spouses, were swept away, ripping a huge hole in the social fabric of the town," Alexander writes.
Alexander, 57, remembers an idyllic childhood in a town where kids roamed freely and safely, jobs were plentiful and families intact. In the 1940s, Forbes magazine devoted much of its 30th anniversary issue to Lancaster, dubbing it the epitome of the all-American town.
On a 2008 trip back home with his mother, who had since retired to Florida, Alexander realized the city wasn't the one he'd grown up in.
Lancaster Glass, where his father worked, had just shut down. More and more people were commuting up the road to Columbus for work. The opioid epidemic had hit hard, as elsewhere in the state. Even the city's better neighborhoods seemed to be fraying at the edges.
About 1 in 5 people in the city of 39,000 now live in poverty, according to the most recent U.S. Census data. Per capita and household incomes are below the state level. The city school district got a "D'' for achievement on the most recent state report card.
A few years later, reading about changes at Anchor Hocking, Alexander realized that threads for a book he'd been contemplating on trends in America were right in front of him.
"The book is not about Lancaster. It's really about the United States of America and a hundred other towns," Alexander said in an interview. "Lancaster is really just an avatar for what's been happening to things like employment, the social contract, capitalism and what we want capitalism to do for us."
"Glass House" follows "Dreamland" by Sam Quinones, a history of the opioid epidemic with chapters on Portsmouth and Columbus, and "Hillbilly Elegy" by J.D. Vance, his memoir and working class study based on growing up in Middletown as an Appalachian transplant.
Alexander's book has ruffled a few feathers in Lancaster, where leaders boast of the city's annual music festival, well-maintained historic homes and a variety of other employers besides the glass industry.
Lancaster Mayor Dave Smith appreciated the in-depth history of Anchor Hocking in "Glass House." He doesn't dispute that the company no longer supports the community the way it did before private equity firms got involved.
But Smith disagrees with the book's suggestion that the city has fallen on hard times, though it's worth noting his predecessor resigned two months after being sentenced to 90 days house arrest after pleading guilty to failing to file state tax returns for two years.
"It's not our whole history and it's not everything happening in Lancaster, and we have a lot of other good assets," Smith said.