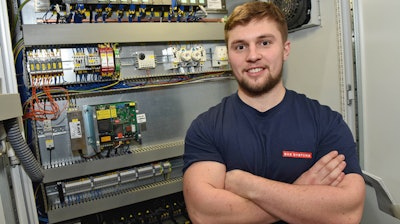 BAE
BAE Systems has announced that it is currently training an unprecedented 2,036 apprentices across its UK-based defense and security businesses – equivalent to around six percent of its 34,000 UK employees.
This is the largest ever number in the company's history, surpassing an original target to train 2,000 apprentices in 2018. In addition, BAE Systems announced today plans to recruit an additional 574 apprentices to join in September 2017.
The figures reflect the need for a continuous pipeline of highly skilled employees trained by the company in-house; particularly to work on two concurrent submarine programs at Barrow-in-Furness in Cumbria.
Next year 293 apprentices will join the Barrow shipyard to work on the new Dreadnought class submarines and the four remaining Astute class submarines. Both types of submarine are destined for the Royal Navy with work on the Dreadnought programs expected to continue well into the 2030s.
The number of apprentices in the business also reflects the value of apprentices' contribution to BAE Systems' UK businesses overall and the continued success of the apprentice training scheme. The majority of UK apprentices are being trained specifically for engineering related roles and undergo three-and-a-half to four year training programs.
Many apprentices also progress to study Bachelor's and Master's degrees and the company is also now able to offer direct entry onto new degree apprenticeships, which last four to five years.
At BAE Systems in the UK, 26 percent of the most recent apprentice intake are women and three-and-a-half percent are from ethnic minority groups. It is hoped that even higher numbers will join in 2017 as BAE strives to achieve better diversity amongst its engineering population. Over recent years BAE Systems has developed a number of education projects with local schools and colleges that are designed to appeal specifically to girls and young people from ethnic minorities.
Applications to join the 2017 training program are available online, the closing date is February 28, 2017.
BAE Systems invests more than £90M ($10.59M USD) in education and skills annually in the UK. The investment ranges from a nationwide engineering roadshow for schools to a life-long learning program for employees.