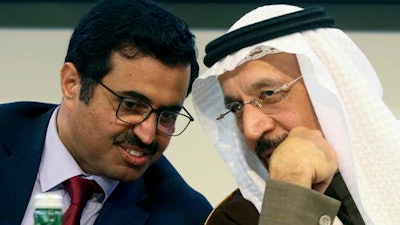 AP Photo/Ronald Zak
VIENNA (AP) — It seems like a big deal. But the joint production cut from OPEC and non-OPEC countries — the first in 15 years — might push up the price of oil less than the nations involved are banking on.
At over $50 a barrel, oil prices remained buoyant and well above recent norms on Monday, reflecting the cutbacks to production agreed to this weekend — and with reason.
Less than two weeks after members of the Organization of the Petroleum Exporting countries agreed to pare 1.2 million barrels a day of their production, they were joined by nearly a dozen outsiders Saturday who pledged an addition daily 558,000-barrel cut.
On Monday, the price of U.S. benchmark crude rose $1.33, or 2.6 percent, to settle at $52.83 per barrel in New York. The price of Brent crude, the international standard, rose $1.36, or 2.5 percent, to finish at $55.69 a barrel in London.
The OPEC cutback alone would have been noteworthy as the first time in eight years the cartel was able to agree on such a move. That, the additional reduction by other 11 nations, and Saudi Arabia's pledge to cut its production even further if needed, is leaving even hardnosed analysts impressed.
Jason Schenker of Prestige Economics calls Saturday's decision "a historic deal," and there is little doubt that in the short term the combined cut will result in somewhat more pricey oil — and, by extension, car fuel, heating and electricity.
But the upward trend might soon peter out, leaving prices well short of the highs of around $100 a barrel last seen two years ago.
President-elect Donald Trump has promised to free up more oil drilling in the U.S., which would increase global supply. More U.S. shale oil, which was unprofitable to produce at the price lows around $35 a barrel touched earlier this year, could become viable again, further increasing supply.
And demand is not expected to rise strongly, as the world economy struggles. China's economy, with its massive, energy-hungry manufacturing sector, is slowing. And Europe's economy, a net importer of oil and gas, is stagnant.
Compliance is also an issue.
Past OPEC attempts to reduce output and push prices upward have failed due to members pumping above their quotas. That contributed to the worldwide glut that combined with feeble economies of consuming countries to bring down prices to as low as $35 early this year. And outside OPEC, some of the cutbacks will be difficult to verify, leaving no choice but to take the word of the country involved that it is fulfilling its pledge.
Noting such big ifs, analysts at German bank Commerzbank, in a research note said "we remain skeptical ... despite talk of this being a 'historic demonstration of unity.'"
"This is because we are convinced that the expectations relating to voluntary production cuts, which have been driven to excessively high levels in recent weeks by oil producers, cannot be fulfilled."
The pacing of the cuts also could dent producers' hopes that enough crude will be withdrawn in real time to push prices significantly higher in the long run.
Russia has said it will cut daily output by 300,000 barrels. But it plans to dribble out its share of the reduction over the coming months and JBC Energy said in a research note that the strategy will translate into a drop of only 80,000 Russian barrels for the first half of next year.
So, while prices are up, hopes may soon be down for the 22 nations involved that their deal will result in a return to sustained high prices — and some analysts are hedging their bets.
"Historic agreement or historic bluff?" asked Commerzbank in its note Monday.