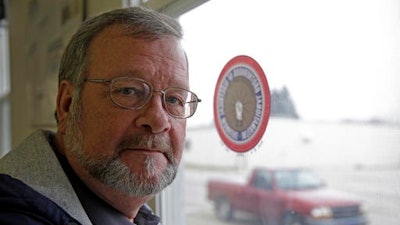 AP Photo/Michael Conroy
HUNTINGTON, Ind. (AP) — A full parking lot and 50-hour workweeks belie the anxiety at the United Technologies-owned factory outside a small northeastern Indiana city, where Mike Harmon and co-workers wonder whether they aren't just stockpiling parts for when the company sends their 700 jobs to Mexico.
Their situation has gained scant attention compared to the sister Carrier Corp. factory two hours away in Indianapolis, which became a rallying cause against plant closures during the presidential campaign and where President-elect Donald Trump intervened to stem some — not all — job losses.
"I don't think they look at us, being from a small town ..." said Harmon, a 44-year-old Huntington native who's worked at the factory for seven years. "The whole time during the campaign he talked Indianapolis, Indianapolis, Indianapolis, never heard one word about Huntington."
It's a perceived slight that stings in a county where 72 percent voted for Trump and manufacturing makes up about one-fifth of all jobs.
On Dec. 1, Trump and Vice President-elect/Indiana Gov. Mike Pence touted Trump's role in Carrier deciding to reverse about 800 planned job cuts at the Indianapolis plant — a move that also provides United Technologies $7 million in state incentives. Neither they nor company CEO Greg Hayes mentioned the Huntington plant or discussed the some 500 Carrier jobs still being lost.
Employees at the United Technologies Electronic Controls factory in Huntington say they've been working mostly seven days a week since late October, making control panels for the furnace, air conditioning and refrigeration industries. Leaders of their union believe the company is doing so ahead of the factory's layoffs expected to start in April and continue into 2018.
But Connecticut-based United Technologies said in a statement that its plans haven't changed. It declined a request to interview a company executive. Hayes has cited a belief that the Trump administration will cut corporate taxes and stem business regulations.
Nationwide, the U.S. Labor Department has issued over 1,600 approvals for layoffs or plant closings since 2015 as a result of shifting production overseas or competition from imports, according to the American Alliance of Manufacturing. Indiana has one of the nation's most manufacturing-dependent economies even though it has lost 144,000 such jobs, or 22 percent, since 2000.
Trump has warned he'll impose a 35 percent tariff on goods imported by companies that outsource production, and a week ago on Twitter ripped plans by Milwaukee-based Rexnord to close a 300-worker Indianapolis bearings factory in another production shift to Mexico.
But it isn't clear whether Trump intends to keep personally intervening in corporate decisions. Three days after the Carrier factory trip, Pence told ABC's "This Week" that Trump will "make those decisions on a day-by-day basis in the course of the transition, in the course of the administration."
Government leaders have long been involved in cutting deals with corporations, according to Scott Paul, president of the American Alliance for Manufacturing.
"It is a fact of life in the real world. Governors engage in economic development on a regular basis, usually they are trying to attract jobs," he said. "Countries do the same thing every day."
Some Huntington workers are upset over the tax incentives for a company that also owns Pratt & Whitney — a big supplier of fighter jet engines that relies in part on U.S. military contracts.
Bob Breedlove, a 60-year-old who's worked at the plant for a decade, voted for Trump and still thinks he's the right person, even though he's "not crazy about this deal."
"My tax dollars are going to save them, but they aren't going to help save my job," Breedlove said. "I know how much money this company makes, they don't need our help to stay in business and make a profit."
Manufacturing jobs are a valuable part of Huntington County's economy, with average annual pay topping $57,000 in 2015, according to the Indiana Business Research Center. That's nearly 50 percent more than the county's overall average earnings.
The United Technologies factory, which draws employees from several nearby communities, is seen as stable employment. Tucked along a bypass of the 17,000-person city and surrounded by miles of farmland, it recently seemed to be the busiest of the 10 or so businesses in an industrial park.
Rouie Hawkins met her husband, Ford, at the factory. They're both still there but have a Plan B: He's making plans to start a used-car business and she's weighing whether to take advantage of the union's severance agreement for reimbursement toward up to four years of college.
"I'll be 50 soon and I worry about even if I go back to school, then I'll be in my mid 50s when I finish a degree and who's going to want to hire me," Hawkins said.
Harmon, whose wife also works at the factory, said it's his third factory closing. He's worried he won't find anything close to the $17 an hour United Technologies provides. The couple has two children in college and two in high school and is doing what he called "major couponing" and cutting back on non-necessities.
"I've told my family that 'You've got DirectTV right now. Next year at this time, you may have antenna TV,'" Harmon said. "Our main thing right now is banking money so that we can try to survive when we are let go."
At a downtown diner, Lori Guy explained that her vote for Trump already is paying off, even if it didn't help her town. "I'm sure if there was a way, he would have saved more jobs," said Guy, who works at an apartment complex where many United Technologies staffers live.
Blake Hancock, his mother and his aunt all work at the plant. While he's grateful for the jobs that are staying in Indiana, the 25-year-old believes Trump was trying to buff up his image, not protect workers.
"There are still 1,300 people who are losing their jobs," Hancock said. "I feel like it was a numbers game ... to buy the favor of the American public."